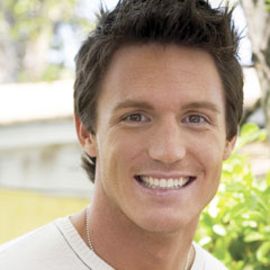 Jason Illian
Author/CEO of GodTube.com
Jason Illian is unpredictable, and he likes it that way. The sought-after author of Undressed: The Naked Truth about Love, Sex, and Dating and MySpace MyKids: A Parent's Guide to Protecting their Kids and Navigating MySpace.com, Jason is a rogue entrepreneur, constantly following his desire to infuse faith into culture. He is a talented speaker with over ten years of experience, a refreshing television personality, and even a successful corporate executive—but his growing influence seems to continually defy all labels.
Jason has appeared on ABC's The Bachelorette, The Tyra Banks Show and has even been mentioned on Jay Leno. He has also spoken to the House and Senate, given keynotes and relationship talks all over the country and started a website for parents to understand the MySpace phenomenon. Jason's company even partnered with MySpace, Inc. to become its preferred provider of safety information. Most recently, Jason serves as Director of Content and Programming for the popular online Christian network, GodTube.com. His raw and inviting approach has landed him features on numerous television shows, including The 700 Club, Living the Life, Celebration, The Hour of Power, The Joni Show and many more.
Jason graduated Magna Cum Laude from Texas Christian University with a BBA in International Finance and continued his studies with the London School of Economics. He was named one of the Top 20 Students in America by USA Today, was a finalist for the Rhodes Scholarship and was an NCAA Academic All-American while being captain of the TCU football team. After working for a multi-billion dollar investment management firm, Jason started his own executive management company and trained with the Stagen Institute, a nationally-recognized transformational leadership institute dedicated to coaching executives and entrepreneurs.
Regardless of how you describe him, Jason brings an insightful and refreshing view to life. His edgy, yet approachable style and familiarity to secular audiences makes him a great choice for community outreach to youth, young adults and college students.
Related Speakers View all
---
Shawn Wood

Pastor, Author and Speaker

Alex McFarland

Author, Apologist & President of Southern Evangelica...

Bill Rieser

aka White Jesus

Marc Mero

Former WCW and WWE Wrestling Champion

Mark Mittelberg

Best-Selling Author & Apologist

Josh McDowell

Christian Apologist, Evangelist & Best-Selling Author

Kirk Cameron

Actor Best Known for "Growing Pains," "Left Behind" ...

Frank Turek

Award-Winning Author of "I Don't Have Enough Faith t...

Michael Franzese

Former Mob Boss & Mafia Leader; Born-Again Christian

Steve Arterburn

Founder & Chairman of New Life Ministries, Host of "...

David Kinnaman

Best-Selling Christian Author; President of Barna Group

Mark Batterson

Best-Selling Author, Lead Pastor & Church Innovator

David Nasser

Pastor, Speaker & Author; SVP for Spiritual Developm...

Scott Rigsby

First Double-Leg Amputee to Complete the Ironman Tri...

Pam Davis

Ministry Founder, Author, Speaker, Model

Shelene Bryan

Executive Producer, Speaker, and Founder of Skip1.org

Wayne Cordeiro

Senior Pastor & Church Innovator

Eric Bryant

Author & Church Leader

John Ortberg

Senior Pastor of Menlo Park Presbyterian Church, Author

Sean McDowell

Sean McDowell is the head of the Bible department at...
More like Jason