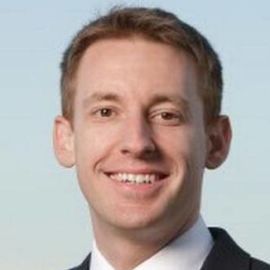 Jason Kander
President of Let America Vote & CNN Contributor Missouri's 39th Secretary of State & Former Army Captain
A husband, a father, a former Army Captain who served in Afghanistan, and Missouri's 39th Secretary of State, Jason Kander is the president of Let America Vote.
Jason, the first millennial in the country to be elected to statewide office, started Let America Vote in February 2017 to fight back against proposals across the country that make it harder for eligible voters to exercise their constitutional right to cast a ballot. Whether it's extreme identification requirements, questionable purges of voter rolls, voter intimidation, new and extreme voter registration processes, or anything that makes voting harder, Let America Vote will be there to lead the way against it.
The Democratic National Committee appointed Jason chairman of the Commission to Protect American Democracy from the Trump Administration to fight back against Republican efforts to make it harder to vote for eligible Americans across the country.
In 2016, Jason ran for U.S. Senate in Missouri in one of the most competitive races in the country, and at over $75 million, the most expensive race in state history. Jason's campaign was bolstered by his viral gun control ad that showed him assembling a rifle blindfolded while making the case for expanded background checks. Jason lost by one of the closest margins in the country, over performing the presidential ticket by nearly 16 points.
Missourians elected Jason as Secretary of State in 2012, when he over performed the presidential ticket by nearly 10 points on his way to becoming the youngest statewide elected official in the country. As Secretary of State, he cut red tape and fees to help small businesses hire and thrive, protected the right to vote, and got tens of millions of dollars for Missouri taxpayers when he took on the Wall Street firms that helped cause the 2008 financial crisis.
Previously, as a State Representative from Kansas City, Jason worked to pass the first major ethics reform in the state in almost 20 years and helped turn Missouri's once weak human trafficking laws into among the country's strongest.
The values instilled in him by his parents, who were both juvenile probation officers (with his dad working as a police officer at night), are why he felt a calling to military service following 9/11. Jason served as a military intelligence officer in Afghanistan, where he investigated groups and individuals suspected of corruption, espionage, drug trafficking, and facilitating Al Qaeda and the Taliban.
Jason's commanders described him as an "outstanding leader" and the Afghan Intelligence Watch Commander said Jason's "hard work directly resulted in arresting enemies and saving lives." After his deployment, Jason came home to Missouri, becoming a leadership instructor in the Missouri Army National Guard's Officer Candidate School at Fort Leonard Wood, where he trained hundreds of soldiers to lead troops into combat.
Jason is a graduate of American University and Georgetown Law School. He lives in Kansas City with his wife, Diana, an entrepreneur, and their three-year-old son, True.
Related Speakers View all
---
Matthew Bishop

Managing director, Rockefeller Foundation and Former...

Muhammad Yunus

Nobel Peace Prize Laureate & Founder of Grameen Bank...

David M. Rubenstein

Co-Founder & Co-CEO of The Carlyle Group

Mitt Romney

Former Governor of Massachusetts, 2012 Republican Pr...

Peter Diamandis

Founder & Executive Chairman of the XPRIZE Foundatio...

Sir Richard Branson

Businessman, Founder of Virgin Group

Dick Armey

Former House Majority Leader, Economist

Marla Blow

Senior Vice President of Mastercard Center for Inclu...

Daniel Altman

Sports Analytics & Strategy Expert

Seth Berkley

CEO of Gavi, the Vaccine Alliance; Medical Doctor Sp...

Peter Thiel

Former CEO and Co-founder of PayPal; Technology Entr...

Dambisa Moyo

Global Economist, Author & Investor in the Future

Nicholas Burns

Professor of the Practice of Diplomacy & Internation...

Clay Shirky

Expert on New Technology & Social Media, & How They ...

John Legend

EGOT Winning Musician, Producer & Philantropist

Robert Bryce

Energy Expert, Veteran Journalist & Acclaimed Author

Robert Hormats

Vice Chairman of Kissinger Associates Inc.

Carly Fiorina

First Woman to Lead a Fortune Top 20 Company; Busine...

Alfre Woodard

Emmy Award-Winning Actress; Human Rights Activist

Noor Tagouri

Journalist, Digital Influencer & Activist
More like Jason