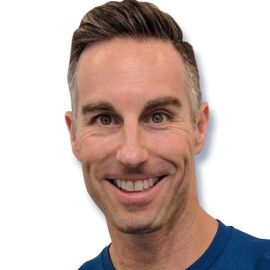 Jason Kriedman is the founder of Dad University, which was created to help dads learn what they don't teach in school. Through videos, podcasts, social media and speaking, they help businesses, organizations, and schools communicate with dads. Their mission is to get more dads involved, increase parenting effectiveness, and help dads find work/life balance.
He is also the founder of Dudes to Dads, a local San Diego group for Dads dedicated to discussing, learning, and sharing experiences on the transition from single man to family man. The group meets every other Tuesday evening to talk about parenting techniques, ways to improve your marriage, and tips to improve the overall quality of your life.
After the birth of his second child, Kriedman began taking parenting classes and seeking out answers to life's daily frustrations. He knew he wanted to learn and help other dads in the community, but there were no resources to do this. He created Dudes to Dads in 2012.
Professionally, Kriedman is an internet entrepreneur and has been involved in internet marketing for more than 15 years. He is married to his elementary school sweetheart and has two energetic kids.
Videos
---
Speech Topics
---
The Fatherhood Formula: 7 Principles of Dad Success
The Fatherhood Formula consists of 7 key principles essential for dads to be connected and involved, building a loving, life-long relationship with their child. The talk includes discussion of each of these principles as well as actionable takeaways to implement the principles.
Dudes to Dads: Transitioning from the Life of a Single Dude to a Family Man
Transitioning from a single guy to a father can be tough—financially, emotionally and physically. Understanding these difficulties and having successful methods to get through them can be valuable. Jason provides insight on his own experience, highlighting how a change in priorities doesn't mean you sacrifice who you are.
Connecting with Kids – Why It's Important & How to Do It
Everyone, especially children, want to feel connected. When children don't feel connected at home, school or within the community it can lead to children finding that connection through dangerous avenues. Learn 11 simple ways you can connect with your children and create a close relationship.
The Importance of Creating Memories with Your Kids
When we look back at our own childhood, it is the positive memories that can give us great joy. Amidst the bustle of day to day life, we often forget how much of an impact creating these memories can have on our own children. Jason discusses the importance of creating memories and offers some easy ways to create them. The impact on our children can last a lifetime.
Dad Stereotypes – What are They & How do we Change Them
While some stereotypes can be rooted from some truth, many of them can be hurtful or demeaning. Feeding into the stereotypes can also greatly affect our children. In this talk, Jason touches on many of the stereotypes that dads face and what we as fathers can do to change them.
Can Dads Have It All? – Finding that Work/Life Balance
We want to be good fathers, husbands, sons, employees… every role that we may play. Even though fathers have tripled the amount of time they spend with their kids since 1965, we are still feeling like it isn't enough. Working mothers spend about twice as much time with their children as working fathers do. In this talk, Jason provides insight on how dads can be successful both at work and at home.