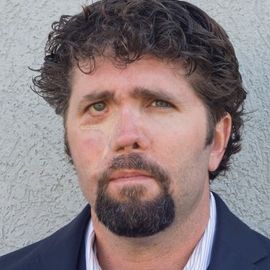 Jason Redman joined the Navy on September 11, 1992 and spent eleven years as an enlisted SEAL. He was selected for the Seaman to Admiral commissioning program and attended Old Dominion University graduating Summa Cum Laude in May 2004. He completed his time with the Hampton Roads Naval ROTC as Student Battalion Commanding Officer before he was commissioned as a SEAL Officer.
Over the next four years, Lieutenant Redman completed combat deployments in both Afghanistan and Iraq. On September 13, 2007, outside of Fallujah, Iraq, Lieutenant Redman's Assault Team came under heavy machine gun and small arms fire and he was severely wounded in the ensuing firefight. While recovering at Bethesda Naval Medical Center, Redman authored and hung a bright orange sign on his door, which became known as the Sign on the Door and became a statement and symbol for wounded warriors everywhere.
In 2010, While still on active duty and recovering from his injuries, Redman founded the Wounded Wear™ clothing line and the Combat Wounded Coalition™, a Non-Profit organization which inspires combat wounded warriors to Overcome. Redman served as the executive director of the organization for almost ten years. The organization raised almost $3 Million and served thousands of wounded warriors. In November of 2013, after 21 years of service, Redman retired from the Navy and launched SOF Spoken LLC, a speaking company which provides inspirational presentations on leadership, teamwork and overcoming adversity for businesses, first responders, sports teams, and government organizations.
Redman published the New York Times bestselling book, "The Trident: The Forging and Reforging of a Navy SEAL Leader". His book details lessons learned in leadership and overcoming adversity throughout his SEAL career while also discussing his combat deployments in Afghanistan and Iraq as well as his personal journey with his wife Erica and their three children. In Dec of 2019, Jason released his second book, "Overcome, How to crush adversity with leadership techniques of America's toughest warriors". It is a step by step action plan how to deal with major adversity in our physical, personal and professional lives.
Today, Jason has expanded his programs with his focus on helping individuals, companies and teams to "GET OFF THE X" ™ from "Life Ambushes. He provides, speaking, workshops, online programs, executive coaching and business consulting to businesses around the world and group coaching through his "Get off the X Training and Overcome Army™ group coaching programs.
Jason has given a TED talk and appeared on numerous national news networks including Fox News, CBS, CNN, and CBN. He has appeared frequently on Fox and Friends and the Huckabee show. Jason has appeared in multiple documentaries including History Channel's, Navy SEALs, America's Secret Warriors.
Related Speakers View all
---
J.R. Martinez

Actor, Best-Selling Author, Motivational Speaker, Ad...

Rudy Ruettiger

Motivational Speaker, Author & Inspiration for the A...

Brent Gleeson

CEO of TakingPoint Leadership, Navy SEAL Combat Vete...

Coach Ken Carter

Coach, Author, Educator & Inspiration for the Film "...

Amelia Rose Earhart

President of the Fly With Amelia Foundation; One of ...

Ed Hiner

Retired U.S. Navy SEAL, Best-Selling Author & Leader...

Scott O'Grady

Former U.S. Air Force Captain, Fighter Pilot Who Sur...

Shane Ortega

The US Army's First Openly Trans Soldier

Melissa Stockwell

First Lieutenant (Retired) & Three-Time Paratriathlo...

Shawn Harper

Former NFL Football Player, Successful Businessman &...

Jim Morris

Known for His Brief MLB Career & Subject of Disney's...

Story Musgrave, M.D.

Retired NASA Astronaut; Physician & Professor at Art...

Dave Carey

Retired Navy Captain & Speaker

Tom Voss

U.S. Army Combat Veteran, Mental Health & Holistic H...

Brian Fleming

Combat-Wounded Veteran, Resilience & Leadership Speaker

Wesley Hamilton

Executive Director of Disabled But Not Really & Moti...

Leif Babin

Retired Navy SEAL & Purple Heart Recipient; NYT Be...

Jocko Willink

Retired Navy SEAL Officer & Author of "Extreme Owner...

Carey Lohrenz

First Female F-14 Fighter Pilot in the U.S. Navy, T...

Rocky Bleier

Former NFL Football Player, Wounded Vietnam Veteran ...
More like Jason