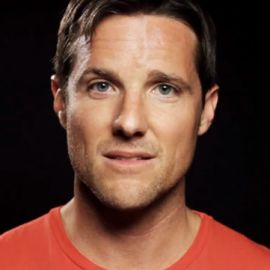 Jason "Radical" Russell is a co-founder of Invisible Children and also its chief creative officer. After graduating in 2002 from the University of Southern California's Film School with a degree in cinema production, he led a trip to East and Central Africa and found himself in the middle of a decade-long war. He made a promise to a boy named Jacob to help end that war, returned home to make a film abut it, which then turned into a non-profit still in pursuit of that promise today.
Russell has co-directed a documentary seen by millions, sold his musical "Moxie" to Steven Spielberg, and served as the assistant to the director for Disney's blockbuster "Step Up 2." Russell's experience extends beyond the screen however as he has directed and choreographed over 20 theatrical stage productions and performed in over 100 different shows.
He is also the director of "Kony 2012," a short documentary film that went viral in the beginning of March 2012. In the first two weeks it was launched, it gained more than 83 million views on YouTube and became the subject of intensive media scrutiny and criticism. Its subject is the Ugandan rebel leader Joseph Kony, his alleged war crimes, and the movement to bring him to the International Criminal Court.
Combining his love for story with his heart for cultures, Russell, along with Invisible Children co-founders Bobby Bailey and Laren Poole, were the recipients of Heartland Film Festival's distinguished Pioneering Spirit Award and the Congressional Coalition's Adoption Angels Award.
His revolutionary approach to humanitarian work has put Russell at the forefront of a generational movement for peace, and he continues to serve as a keynote speaker across the country, empowering youth to become more involved in the global landscape.
He admires Steven Spielberg, Walt Disney, Oprah, Bono, Steve Jobs, and Dan Eldon, but the most admiration of all goes to his childhood sweetheart/best friend/wife Danica and their two children, Gavin Danger and Everley Darling. He wholeheartedly believes that if you want to change the world, you have to be crazy enough to believe you can. He does, has, was, and still is.
Videos
---
Related Speakers View all
---
John Prendergast

Human Rights Advocate and Author of Unlikely Brothers

Amanda Lindhout

Executive Director of The Global Enrichment Foundati...

Peter Gabriel

Founder of the Band Genesis and Co-Founder of WITNESS

Zak Ebrahim

Peace Activist & Author, "The Terrorist's Son"

Lisa Kristine

Fine Art Photographer Specializing in Indigenous Peo...

Daniel Markey

Senior Fellow for India, Pakistan, and South Asia

Charles A. Kupchan

Whitney Shepardson Senior Fellow at the Council on F...

Djimon Hounsou

Actor, Producer, Humanitarian, Founder of the Gate o...

Dan Pallotta

Founder & President of Advertising for Humanity and ...

Dr. Samantha Nutt

Founder & Executive Director of War Child North America

Jeremy Gilley

Actor, Filmmaker & Founder of the Peace One Day Non-...

Mallory Brown

Social Entrepreneur & Humanitarian

Gelila Bekele

Ethiopian Model, Humanitarian and Social Activist

Okello Sam

Former Ugandan Child Soldier and Founder of Hope North

Raj Kumar

President & Editor-In-Chief of Devex, a Global Devel...

Joseph Sebarenzi

Former Head of the Rwanda Parliament, Author & Lecturer

Bryn Mooser

CEO & Co-Founder, RYOT

David Darg

Filmmaker, Activist and Co-Founder of RYOT.org

Kimberly Stewart

Socialite, Reality TV Star, Known for being the Daug...

Gillian Anderson

Award-Winning Actress; Known for "The X-Files"
More like Jason