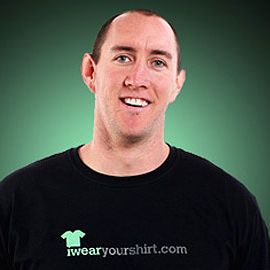 In 2008 he recognized the growing influence of social media and decided he could utilize these platforms in a new and unique way, by get paid to wear sponsored t-shirts for a living.
Each day, Jason represented a different company online using social media sites like Facebook, Twitter, YouTube, Ustream and Flickr.
Jason has worked with over 1,000 clients that include professional sports organizations, advertising agencies, Fortune 500s, startups, and more.
Jason previously co-owned a web design company and in 2013 auctioned off his last name to the highest bidder.
Jason will be selling his last name again for 2014 for the second and last time and is currently writing a book called "Creativity For Sale."
Videos
---