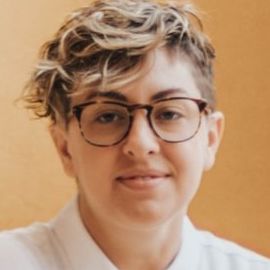 Jay Bendett is a nonbinary diversity, equity, and inclusion leader. They are an inclusion consultant and facilitator who specializes in codified, actionable strategies and narrative storytelling. Bendett catalyzes innovative strategies and optimizes inclusive workplace communities, partnering with C-level leadership to guide metrics, analyze data, synthesize results, and mobilize impact.
Bendett's process is the result of years spent conducting extensive research on trans inclusion and safety, a master's degree in gender politics from New York University, and published works in numerous academic journals.
Bendett founded Argo Collective to transform inclusion initiatives, gain consensus at all organizational levels, and mobilize impact. Bendett's years of DEI consulting experience provide them with a deep understanding and appreciation for the myriad of strategies necessary to educate teams in a variety of ways depending on location, background, culture, and industry. Bendett is an expert in crafting innovative and experiential workshops that bring teams together to synthesize new information and catalyze new strategies for inclusive recruiting and engagement.
Videos
---
Related Speakers View all
---
Lauren Aguilar

Founder & Head of Inclusion and Diversity at Forshay

Greg Jenkins

Founder & CEO of Greg Jenkins Consultant; Diversity ...

Michelle Kim

Entrepreneur & Diversity and Inclusion Expert; Co-Fo...

Joelle Emerson

Founder & CEO of Paradigm; Diversity, Inclusion and ...

Jackie Glenn

Founder & CEO of Glenn Diversity Inclusion & HR Solu...

Dr. Akilah Cadet

Founder & CEO of Change Cadet, A Consulting Firm Hel...

Candice Morgan

Equity, Diversity & Inclusion Partner at Google Vent...

Roxanne Bras Petraeus

CEO & Co-Founder of Ethena, A Company That Provides ...

Lesa Bradshaw

Diversity & Disability Inclusion Specialist

Adelmise Rosemé Warner

Senior Director of Global Employee Relations at Appl...

David Julius King, III

Head of Employee Experience, Diversity & Belonging a...

Cynthia Owyoung

Vice President of Diversity & Inclusion at Charles S...

Dr. Sarah Saska

Co-Founder & CEO of Feminuity, A Strategy Firm That ...

Randi Bryant

Diversity & Inclusion Strategist and Consultant; Fos...

Aiko Bethea

Founder of RARE Coaching & Consulting; Anti-Racism a...

Minda Harts

Founder & CEO of The Memo, A Career Development Plat...

Seconde Nimenya

Award-Winning Author, Inspirational Speaker, Educati...

Vanessa Sheridan

Director of Gender Equity and Inclusion at Center on...

Caroline Wanga

Interim-CEO, Essence Communications; Former VP of Di...

Melinda Briana Epler

Founder & CEO of Change Catalyst; Thought Leader on ...
More like Jay