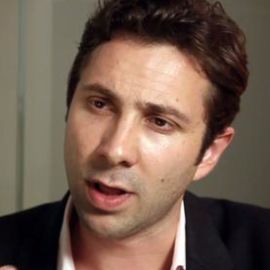 Its true that you can boil a good business down to one simple idea, but whats much more important is execution!
Jay is the Founder & CTO of eCourier.co.uk, the online courier company with the purple vans. The idea for his business came from a personal frustration with same day couriers. So he decided to do something and act on his frustration. The result is a 6m business built in four years, recently ranked 53rd on the Sunday Times Microsoft Tech Track 100 and sixth on the Deloitte Technology Fast 50 rankings of the fastest-growing and most innovative technology companies in the country. In 2007, eCourier was chosen as Londons Most Inspirational Business by the Evening Standard.
The innovation at the heart of eCourier is a real-time optimisation algorithm called 'Larry' which assigns orders to eCouriers and building routes in real time. This solves the problem of human dispatchers issuing work to couriers via radio which is the most common cause of low efficiency, high overheads, and diseconomies of scale. The end result is a neat balance of client happiness, courier happiness, and fleet efficiency.
In spite of being from New York City, Jay was named an Enterprising Young Brit by Make Your Mark and is very happy working and living in London. His skills and energies are much in demand and he was recruited as a member of the Office of Fair Tradings Futures Advisory Board, advising the regulator on new trends in the relationship between markets and government.
Using the story of eCourier Jay speaks informatively on technology, entrepreneurship, marketing, building a brand and the challenges of running a high growth company through a recession.
Related Speakers View all
---
Ron Immink

Business book nerd, entrepreneur, founder of smallbu...

David Nour

Social Networking Strategist

Warren Cass

Social Media Strategist & International Speaker

Jay Handler

Speaker, Radio Host & Author of "The 8 M's of Market...

Luca Sartoni

Media professional and photographer for passion

Marc Vidal

VP at Openshopen & Founder of Idodi Venture Capital

Gary Vaynerchuk

Co-Founder & CEO of VaynerMedia

Rabble

Hacker & Creator - Focusing on Startups & NGO's

Ryan Charles

Mobile Guru (Former Zagat Mobile Head), CPG Entrepre...

Paul Lamb

Social Entrepreneur

Mari Smith

Co-Author of Facebook Marketing

Chris Skinner

Independent Commentator on the Financial Markets; Bl...

Heinz D. Schultz

Expert on Web-, APP,- and Social Media Analytics, Bl...

Jan Vermeiren

Founder of Networking Coach & Author of the Network ...

Roberto Alas

Reaching and identifying the potential in every sing...

Shelly Kramer

Dynamic, Captivating Speaker Who Delivers Actionable...

Susan Sweeney

CSP HoF Internet Marketing Speaker, Best Selling Aut...

Helen Dowling

Speaker and Trainer on Marketing and Sales

Howard Yermish

One of the most frequent questions that I get from p...

Helder Falcao

"PALOP"| Portuguese & English Speaker | Business Net...
More like Jay