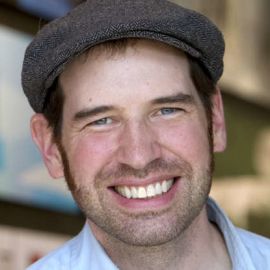 Jay Shuster
Art Director & Production Designer at Pixar Animation Studios
Jay Shuster has worked on some of the world's most beloved films, including Cars, WALL-E, and two of the Star Wars movies. On stage, Shuster shares his journey from childhood obsession with planes, trains, and automobiles to a career in design for Lucasfilm and now Pixar. He offers powerful lessons on creativity, collaboration, and innovation, and draws the path of a great idea from genesis to commercial success.
As a character designer, how does Jay Shuster manage to stay consistently creative? What keeps him motivated to be the best? And, ultimately, what techniques and processes are used to transform his creative approach into real, quality, work? Shuster is both a product of, and a contributor to, unrestrained creative culture. Sharing anecdotes from the making of some of our favorite films, he helps unveil the mystery of tremendous creative success.
Shuster joined Pixar Animation Studios as a concept designer on the Golden Globe®-winning Cars, where he translated the ideas of director John Lasseter into characters and environments for the film. He went on to work as a character designer on the Academy Award® winning feature WALL•E, and Golden Globe-nominated Cars 2. He is currently working on an upcoming project.
As the son of a car designer, Shuster's childhood bedroom was filled with blue prints, drawings, posters, machines and models of all things related to almost every mode of mechanized transportation. When he saw the original Star Wars, he made the connection between his passions and a possible future in the film industry. Before finding his place at Pixar, Shuster began his film career at Lucasfilm, where he worked as a concept artist and designed a variety of vehicles and environments for Star Wars: Episode I—The Phantom Menace and Star Wars: Episode II—Attack of the Clones. He is a graduate of ithe Industrial Design program at College for Creative Studies in Detroit.
Videos
---
Speech Topics
---
The Secrets of Pixar's Success
How does Pixar produce work that is both astonishingly creative and commercially dominant? In this gripping talk, Pixar Production Designer Jay Shuster distills the company's process into four takeaways that will help any organization build a culture of collaboration and innovation. Where do good ideas come from? Why is an open atmosphere so important? With the emotional resonance, skillful storytelling, and sheer wonderment of Pixar's best films, Shuster delivers an instructive look at the most envied creative studio in the world--reminding us to always trust the process and "celebrate what you do."
Related Speakers View all
---
Matthew Luhn

Former Pixar Animator, Story Artist, Creativity Expe...

Danielle Feinberg

Director of Photography at Pixar Animation Studios; ...

Andrew Millstein

President, Disney Animation Studios ("Frozen," "Big ...

Paul Topolos

Illustrator & Concept Designer at Pixar Animation St...

Duncan Wardle

Former Head of Innovation & Creativity at Disney

Glen Keane

Legendary Animator, "The Little Mermaid," "Tarzan," ...

Don Levy

Media, Entertainment, and Technology Executive & Adv...

Louie Schwartzberg

Award-Winning Cinematographer, Director, Photographe...

Pete Docter

Film Director, Animator, Screenwriter, Producer and ...

Joe Sabia

Head of Development at Conde Nast Entertainment, Dir...

Peter Diamandis

Founder & Executive Chairman of the XPRIZE Foundatio...

Mitch Lowe

Former Co-founding Executive of Netflix; Former Pres...

Bruno Maisonnier

CEO and Founder of Aldebaran Robotics

Jake Barton

Principal & Founder of Local Projects

Jason Silva

Emmy-nominated TV Personality; Futurist; Host of Nat...

Cesar Kuriyama

Director, Producer & TED Speaker; Known for 1 Secon...

Oren Jacob

Fil Producer, Founder & CEO at ToyTalk Company & For...

Mark Andrews

Award-Winning Director and Screenwriter of Pixar's "...

Jon Steinberg

Founder & CEO of Cheddar; Former President & COO of ...

Anthony Saladino

‎Co-Founder & CEO of Kitchen Cabinet Kings
More like Jay