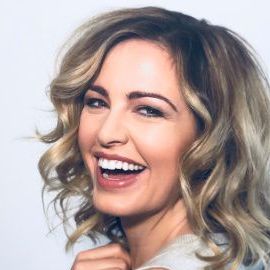 Born and raised in Los Angeles, California. Jayde got her start in the business working part-time at Clear Channel Radio Los Angeles. She cut her teeth pitching tents, passing out bumper stickers, and soliciting celebrity audio on the red carpet. Jayde went from modeling/pageants & coffee running to radio production as Executive Producer of the syndicated radio program The Craig Shoemaker Show.
Realizing her desire to work on air, in 2007 Jayde fought and won the opportunity to become the Morning Show Co-Host of Johnny & Jayde in the Mornings on Orlando's WXXL XL 106.7.
While in Orlando, Jayde made the most of her opportunity, working not just behind the mic but in front of the camera by hosting such specials as The CW 18 Friday Night Comedy Lounge with Jayde, and was on scene at the Capitol One Bowl with ABC at The Capitol One Bowl Citrus Parade (her first nationally televised gig) and was also featured on Fox 35 Morning News with her LIVE celebrity gossip segment Celebrity Talk with Jayde. She appeared as a Co-Host for the 08 Jerry Lewis MDA Telethon LIVE from Orlando, with National syndication on CW18 and was also featured on the Nationally syndicated morning TV program The Daily Buzz as a single episode Guest Host.
Jayde graced the cover of Orlando Style Magazine, Orlando Magazine, Think Healthy Magazine, & Orlando Womens Newspaper.
All of this work lead to one of the more memorable moments in her career when she was chosen out of 150,000 women & won the opportunity to co-host with Regis on LIVE With Regis & Kelly.
Following her successful stint on ABC, Jayde landed a gig on Bravos new show Love Calling with Donny Duetsch! The live special gave callers advice on love, sex, & relationships.
In addition to her professional pursuits, Jayde enjoys giving back to the community. In 2010 Jayde founded the Apple A Day Foundation, a non-profit dedicated to providing devices, such as tablets, iPhones, iPads, other smartphones and laptops to children ages 2 to 17 undergoing cancer treatment.
During her time in the spotlight Jayde has received many accolades, including: Best Radio Personality Orlando Business Journal, Runner up to Tiger Woods for Best Local Celebrity Orlando Sentinel, 20 Coolest People in Orlando Axis Magazine, recently selected as a Woman to Watch in 2010 Orlando Woman Newspaper, and was ranked nationally by Pop Crunch as #7 of the 50 Hottest Women in Radio 2009 and #10 of the 50 Hottest Women in Radio 2010.
Jayde spent 2011 as a correspondent with Billy Bush on Access Hollywood interviewing celebs on the red carpet, in-studio, and press junkets.
In 2018 Jayde received her own weekly syndicated talk radio show, JAYDE, with Westwood One. The show is designed to be an upbeat, fun and empowering outlet, targeted at "the fierce, fabulous women who are doing it all."