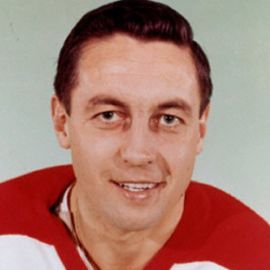 Jean Beliveau
He made his career as a strong skater and was hard if not impossible to slow down. He was nicknamed after a popular French song of the day by the same name, "le Gros Bill," and in all he played on an incredible 10 Stanley Cup-winning teams as a member of
He made his career as a strong skater and was hard if not impossible to slow down. He was nicknamed after a popular French song of the day by the same name, "le Gros Bill," and in all he played on an incredible 10 Stanley Cup-winning teams as a member of the Montreal Canadiens.
Born in Trois Rivieres, Quebec, in 1931, Beliveau first played organized hockey in Victoriaville, Quebec. He played junior hockey as a member of the Quebec City Citadelles and senior hockey for the Quebec Aces. The Canadiens wanted the young Beliveau in their lineup, but he wasn't all that eager to play for them.
But the Canadiens owned the rights to Beliveau, so he couldn't play for another pro team unless Montreal traded him. Since the Aces were an amateur team, there was no conflict with his staying there. Finally, Montreal purchased the entire Quebec Senior Hockey League, turned it pro and added Jean Beliveau to their roster. Without much choice in the matter, Beliveau signed on with the Canadiens in 1953 for a then unheard-of $100,000 contract over five years.
Beliveau made the All-Star Team 10 times, was the leading scorer of all time for Montreal and the all-time leading scorer in Stanley Cup history as well. After playing a total of five regular season games in 1950-51 and 1952-53, he played another 18 seasons with Montreal, and in 10 of those he led the team as their captain.
When he retired from the game, Beliveau said, "I made up my mind to offer my place to a younger player." He added: "It's hard, but I will play no more. I only hope that I have made a contribution to a great game. Hockey has been my life since the day my father gave me a pair of skates when I was five years old." In reverence to all that Beliveau gave to hockey, the Canadiens held Jean Beliveau Night at the Montreal Forum in March 1971. They also established the Jean Beliveau Fund for underprivileged kids.
For everyone who knew him, the fund was a very fitting way to say farewell to Beliveau, as he was considered by many to be a true role model for kids. Clarence Campbell, president of the NHL, said: "Any parent could use Jean Beliveau as a pattern or role model. He provides hockey with a magnificent image. I couldn't speak more highly of anyone who has ever been associated with our game than I do of Jean."
Beliveau served as a team executive for the Canadiens and official spokesperson for the club. Some observers noted that he'd been filling that latter position unofficially for years anyway. In 1981 he was also named to the selection committee of the Hockey Hall of Fame. Beliveau received an honourary degree in physical education from the University of Moncton, New Brunswick. He was also president of Jean Beliveau, Inc., a thriving business with varied interests in restaurants, real estate and other concerns.
Beliveau worked for the Canadiens in public relations until 1993 as senior vice-president of corporate affairs but he maintained ambassadorial prestige with the team even to this day. In 1994 he became the only NHL player to be offered the position of Governor General of Canada, but Beliveau turned it down because the job would have taken too much time away from his family.