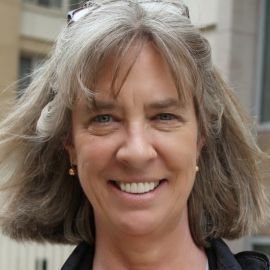 Jeanne Pinder
Journalist, Founder & CEO of ClearHealthCosts, Bringing Transparency to Healthcare Costs
Lifelong journalist Jeanne Pinder is founder and CEO of ClearHealthCosts, a digital media startup that demands price transparency from the US healthcare system. After taking a buyout from the New York Times, where she worked for almost 25 years, she won a Shark Tank-style competition with her ClearHealthCosts pitch and hasn't looked back.
Since its founding in 2011, ClearHealthCosts has won a slew of journalism grants and prizes and has reported on and crowdsourced health price data in partnership with prestigious newsrooms in New Orleans, Philadelphia, Miami, San Francisco, Los Angeles, New York and elsewhere. This work has won numerous journalism prizes -- a national Edward R. Murrow award, a Society for Professional Journalists public service gold medal and a spot as a finalist for a Peabody Award, among others.
Pinder and the company have won grants from the John S. and James L. Knight Foundation, the International Women's Media Foundation, the Tow Center for Digital Journalism at Columbia University, the Tow-Knight Center for Entrepreneurial Journalism at the CUNY Graduate School of Journalism and others.
She recently finished a TED residency, and also was a fellow at the Tow Center for Digital Journalism at Columbia University.
Previously, in her native Iowa, Pinder worked at The Des Moines Register and the Grinnell Herald-Register, a twice-weekly newspaper that her grandfather bought in 1944.
Pinder speaks fluent but rusty Russian. In a previous lifetime, she lived in what was then the Soviet Union, a place almost as mysterious as the US healthcare marketplace.
Videos
---