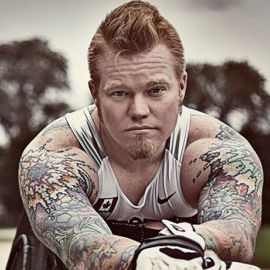 Jeff Adams is a Canadian Paralympian and a six-time world champion in wheelchair sports.
Adams survived childhood cancer, but the radiation treatment that ultimately saved his life caused burns on his spinal cord that permanently damaged it. He started using a wheelchair at a young age, but his love of competitive sport helped him turn his wheelchair into the vehicle for a journey of success.
Adams is a three-time Olympian, five-time Paralympian, and six-time World Champion in wheelchair sports. He has acted in television commercials, has been a global spokesperson for multinational corporations, and regularly works as a journalist and commentator, recently hosting the CBC radio show The Current. He's served as Chair of the Accessibility Committee for the Toronto 2008 Olympic Bid Committee, and as the Chair for the Ontarians with Disability Advisory Council.
In 2002, Adams climbed the 1776 stairs of the CN Tower in a specially designed wheelchair for an awareness event called "Step Up to Change". The event was designed to highlight the need for accessibility, but went much further than that. By climbing the stairs in a wheelchair, Adams demonstrated in a tangible way, that when faced with what seems like an impossible task or an insurmountable barrier, having a plan, sticking to it, and taking it "one step at a time" is the best way to guarantee success.
Using compelling video footage of both the best and worst days of his athletic career, and through his intensely personal and compelling story, Adams shows his audiences how the power of focus can make a winner out of anybody. Adept at tailoring his message to seamlessly fit each audience, Adams focuses on methods people can use to win "gold medals" in every aspect of their life.
Over the last decade, Adams founded and sold two companies, Marvel Wheelchairs and Icon Wheelchairs, raising over $6 million dollars in private equity funding for the startups. Marvel underwent an acquisition in 2010, and Icon was acquired in 2015. Jeff is currently the Executive Director of the ArtsGames Foundation.
Adams' message is pertinent to the business reality as it is to the daily lives of his audience.
Having a message and keeping it consistent; agreeing on a plan and sticking to it; recognizing the excellence that surrounds us, and listening for and making the "sounds of support and celebration" are themes that echo and resound throughout his presentation.
Videos
---
Related Speakers View all
---
Chantal Petitclerc

Canadian Senator, Paralympic Champion & World Record...

Jessica Long

13x Paralympic Swimming Gold Medalist

Rudy Garcia-Tolson

Four-Time Paralympian & Five-Time Medalist; People M...

Melissa Stockwell

First Lieutenant (Retired) & Three-Time Paratriathlo...

Andrew Haley

Canadian Paralympic Swimming Champion

John Register

Paralympic Silver Medalist, Desert Storm Veteran & C...

Marla Runyan

Track & Field Runner, First Ever Legally Blind Olymp...

Lex Gillette

Blind Paralympic Athlete; Motivational Speaker

Blake Leeper

Paralympic Games Medalist, American Bladerunner & Mo...

Tatyana McFadden

Paralympic Wheelchair Racer, Nordic Skier, 4-time Wo...

Victoria Arlen

Survivor, ESPN & Ninja Warrior Host, Gold Medalist, ...

Jon Montgomery

2010 Gold Medal Olympian - Skeleton

Charles Hamelin

Olympic Speed Skating Gold Medalist

Mike Schlappi

Paralympic Medalist

Catriona Le May Doan

Olympic Champion Speed Skater & CBC Broadcaster

Silken Laumann

Olympic Hero

Vince Poscente

Former Olympic Speed Skier, Leadership & Sales Exper...

Diana Nyad

First Person to Successfully Swim from Cuba to Flori...

Shannon Miller

Olympic Gold Medalist, Health Advocate & Cancer Surv...

Dan Jansen

Retired American Speed Skater & Olympic Gold Medalist
More like Jeff