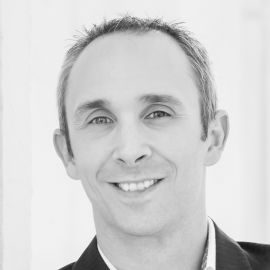 Jeff Boss enlisted in the Navy after college with a single goal in mind: to become the best in the world at his profession. He enlisted in the Navy in 2000, completed the infamous Basic Underwater Demolition SEAL training in Coronado, CA and reported to east-coast based SEAL Team Four, where he deployed to Europe, Africa, and the Middle East.
While at SEAL Team Four, Jeff was selected to try out for the Navy's premier counterterrorism unit: Naval Special Warfare Development Group. It was at DEVGRU where Jeff participated in the most significant Special Operations missions in the history of the U.S. Military, as well as got shot seven times on two different deployments, survived four parachute malfunctions, and attended more funerals than some people can even count. It was these unique experiences that not only shaped his leadership but also compelled him to share his lessons in his first book "Navigating Chaos: How To Find Certainty In Uncertain Situations" and his second book "Managing The Mental Game: How To Think More Effectively, Navigate Uncertainty, And Build Mental Fortitude."
Across 13 years of service at the highest level, Jeff completed eight combat deployments earning him four bronze stars with valor, two purple hearts, six combat action ribbons, and two presidential unit citations, among others.
Jeff left the military in 2013 to apply his knowledge and experiences in the private sector. As a speaker, leadership and team coach, Jeff applies what he learned from the pinnacle of special operations to corporations who are tired of dealing with their own "chaos" and want a tried and tested solution that works.
Jeff is a weekly contributor to Forbes and Entrepreneur on the topics of leadership, adaptability, and elite teams. He holds a Bachelor's in Spanish, a Master's of Science in Organizational Leadership, is co-founder of The Adaptability Metric which is a proprietary tool which measures individual disposition toward change, a founding team member of the non-profit SEAL Future Fund, is certified in administering the Hogan Business Reasoning Inventory and EQ-i 2.0 assessments, and serves as a cultural advisor to multiple tech startups.
Jeff currently resides in Washington DC where his only real battle is traffic..
Videos
---
Speech Topics
---
Navigating Chaos: How To Find Certainty In Uncertain Situations
In this speech, Jeff shares his inspirational story of the peaks and valleys experienced throughout his 13 year Navy SEAL career and how the lessons in leadership, teamwork, and mindset apply to you, your team, and your organization.
Make It Happen
On the battlefield, your competitive advantage is determined by 1) the information you receive 2) how fast you're willing to act on it and 3) how soon you're able to learn from it. Boardrooms and businesses operate the same way. No matter what industry you work in, the lessons that Jeff shares from 13 years as a Navy SEAL will help you refine your competitive advantage. See attached media kit for more
Related Speakers View all
---
Ed Hiner

Retired U.S. Navy SEAL, Best-Selling Author & Leader...

J.R. Martinez

Actor, Best-Selling Author, Motivational Speaker, Ad...

Story Musgrave, M.D.

Retired NASA Astronaut; Physician & Professor at Art...

Diego Ugalde

Retired Navy SEAL, CEO & Founder of The Trident Appr...

Scott O'Grady

Former U.S. Air Force Captain, Fighter Pilot Who Sur...

Tom Voss

U.S. Army Combat Veteran, Mental Health & Holistic H...

Kyle Carpenter

Retired U.S. Marine, Youngest Living Medal of Honor ...

Jocko Willink

Retired Navy SEAL Officer & Author of "Extreme Owner...

Chad Williams

Former U.S. Navy SEAL & Author of "SEAL of God"

Jim Morris

Known for His Brief MLB Career & Subject of Disney's...

Austin Hatch

Two-Time Plane Crash Survivor, Former College Athlet...

Pat Williams

Motivational Speaker & Sports Executive; Senior Vice...

Brent Gleeson

CEO of TakingPoint Leadership, Navy SEAL Combat Vete...

Andy Worshek

Expert on Intent-Based Leadership, Author & Former S...

Coach Ken Carter

Coach, Author, Educator & Inspiration for the Film "...

Dr. Kevin Freiberg

World-Wide Best-Selling Author, Speaker & Advisor

Dave Carey

Retired Navy Captain & Speaker

Bill Capodagli

Author of "Innovate the Pixar Way: Business Lessons ...

Rick Ridgeway

Environmentalist, Mountaineer, Expedition Author, VP...

Jason Redman

US Navy SEAL (Retired) & NY Times Best Selling Author
More like Jeff