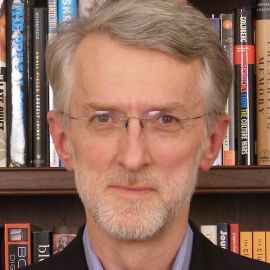 Named one of the 100 most influential and respected media figures in the world by the World Economic Forum, Jeff Jarvis writes about media, technology, and business on his blog, Buzzmachine.com, and works as a columnist for The Guardian in London. From newspapers to magazines to blogs, he has established himself as a respected authority on a wide range of topics. He is the author of What Would Google Do? (2009) and Public Parts: How Sharing in the Digital Age Improves the Way We Work and Live (2011).
Along with Leo Laporte, Jarvis is a co-host on This Week in Google, a live-streamed podcast show on the TWiT Network which covers Google and cloud computing.
Jarvis originally worked for The Chicago Tribune as a reporter and assistant city editor. He then went on to create the popular media magazine Entertainment Weekly, which now has a circulation of 1,725,000 copies per week. He has also worked in entertainment news as a critic for TV Guide and People.
Jarvis was president and creative director of Advance.net (the online arm of Advance Publications, owner of Cond Nast), as well as the Sunday editor and associate publisher of The New York Daily News. His publishing and editorial expertise has led him to consult and has speak for a number of media companiesincluding The Guardian, News Corp., USA Today, VH1, The New York Times, Advance Publications, and Hearstand such major brands as GM, Nike, Avaya, Chrysler, Este Lauder, Starcom, and Edelman.
His writing has appeared in numerous publications including BusinessWeek, The Guardian, Advertising Age, The Nation, The Philadelphia Inquirer, and The New York Post. He has appeared on a variety of television and radio programs, ranging from Fox News to the BBC to Oprah to NPR. Jarvis regularly contributes to Sky News, and previously was a regular blogger on MSNBC.
A frequent lecturer, Jarvis has spoken at a number of industry events including the National Association of Broadcasters, the Radio-Television News Directors Association, the Online News Association, and the Public Radio News Directors Association. He is associate professor and director of the interactive journalism program at the City University of New York's new Graduate School of Journalism.
Speech Topics
---
Publicness and Privacy
The author of the provocative book "Public Parts" argues in favor of the benefits of sharing and warns of the dangers of overreacting to fears about privacy brought on by the internet. Privacy matters and needs protection, but so does publicness, Jarvis contends, as he brings historical and personal perspective to understanding how technology can change society for the better.
What Would Google Do? Reverse-Engineering the Fastest Growing Company in the Rest of the World
The author of this best-selling book takes audiences through a fascinating exercise, asking them to imagine the Googley car company or restaurant or government ... or version of their own company. Thus, he helps them to understand what made Google the fastest-growing company in the history of business and to find their own opportunities in the disruption brought on by the internet.
Save the Net: Encouraging Openness
The internet is in danger. Not just of tyrants but also of well-meaning governments and clumsy companies threatening to limit the freedom and power that the net is bringing to anyone -- to publish to the world and even to organize revolutions and new nations. Jarvis has urged CEOs and heads of state to take a Hippocratic oath for the net: First, do no harm. He proposes principles of an open internet and open society and urges his audiences to protect them both.
Honey, We Shrunk the Economy
Today, technology leads to efficiency overgrowth. The result: countless jobs lost in recent years will not return. That's a harsh reality that policymakers and pundits refuse to face. In a discussion with his audiences, Jarvis looks at industry after industry -- from media to retail to manufacturing to education -- in which productivity and profitability may soar but so, too, will disruption, destruction, and unemployment. What results is a conversation about strategies and opportunities in the face of this disruption.
The Beta Conversation: Invitation to Collaborate
Technology has taught us a new way to develop products: in public. When Google releases a beta, it is a statement of humility that says, "This thing isn't finished, it isn't perfect, in fact, we're not sure what it is yet -- so help us make it better." The beta is an invitation to collaborate with customers. That's a wise model for more enterprises and activities as Jarvis and his audiences explore the beta company, beta government, beta marriage, and beta life.
The Future of News and Media-- Yes, They Have One
The disruption that has overtaken media thanks to the internet will come to most industries and institutions. There are lessons to be learned in what media have done wrong. But more importantly, there are also lessons to be had in exploring the opportunities media face to reinvent themselves as services and relationship businesses rather than just content factories. At the Center for Entrepreneurial Journalism (which he directs), Jeff Jarvis researches and advises companies on implementing new business models for news.
Disrupting Education
Jeff Jarvis, a professor at the City University of New York, argues for disrupting the university by taking advantage of new ways to teach more skills; finding new efficiencies and economies of scale so we do not continue to bankrupt our children's future; and rethinking the value of the lecture, the campus, and the diploma.
Public Parts: How Sharing in the Digital Age Improves the Way We Work & Live
It's a new age. Every day, millions of people share billions of personal thoughts on Facebook, Twitter, and other social networking sites. But with every new technology, people find more reason to worry about privacy. In this optimistic talk, Jeff Jarvis examines the tension between privacy and publicness that is transforming how we form communities, create identities, do business, and live our lives.
Buzzmachine: Media, Technology & Business Intersect