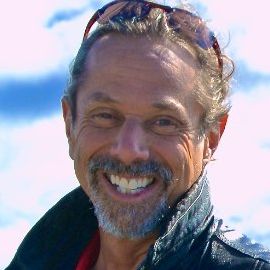 Jeff Salz creates the foundation for adventurous thinking in any organization by presenting a unique perspective on taking risks. It's not the adventure that only occurs at rarefied air that he talks about - it's the adventure that occurs everywhere, everyday. Jeff Salz shows audiences that our life must consist of adventure for a truly meaningful workplace.
With a Ph.D. in cultural anthropology and a Masters in experiential education Jeff Salz spent 10 years as a university professor. For the last 15 years, he has been safely guiding organizations through the turbulent seas of change and facilitating enhanced teamwork in organizations by helping them build 'cultures of authenticity'. Jeff Salz's best selling book, "The Way of Adventure: Transforming Your Life and Work with Spirit and Vision," is a 'manual' which assists organizations to keep the flame of adventure alive every day.
To help audiences become leaders in their organizations, Jeff Salz reveals his Six Steps to the Top -- the tools adventurers use to be the best they have ever been. These tools include instructions on 'The Hero's Journey' -- the roadmap through change. Jeff Salz's presentations provide insight in four areas: how to sustain success with no burnout factor, how to polish the inner game for achieving external greatness, how to be better than the person we were yesterday, and how to pay attention to one's soul so mountaintops fall quietly and easily beneath one's feet.
With strategies from "The Way of Adventure," Jeff Salz gives audiences clear instructions that enable them to put the passion and commitment of adventure to work in their organizations and daily life.
Videos
--- Speech Topics
---
The Adventure of Change:
Six Steps to Greatness in the Age of Transformation
During this stirring multi-media keynote experience, Jeff reveals the Six Steps - gleaned form over 40 years of exploration and expedition experience - lessons that have been adopted by some of today's most successful teams and organizations. With award-winning photography and music, audience members join Jeff on a remarkable journey of discovery that will leave them breathless, well -equipped and eager to join in the adventure of taking responsibility in this Age of Transformation.
Leading Through Turbulence:
Timeless Certainties for Uncertain Times
Why do some organizations thrive in times of adversity? Why do some cultures sustain success while others perish?
Whby does one expedition fail while the other succeeds?
The answers can be discoverd in what Dr. Jeff Salz calls "Leadership from the Inside Out." Dr. Salz masterfully engages audiences with stories about his journeys among traditional mountain people in areas as diverse as the Mayan Highlands of Mexico, the Tibetan himalayas and the Andes of Patagonia.
Along the journey, Dr. Salz poses four key questions for today's leaders:
What is your highest vision? What gives you the greatest inspiration and vigor? What is your deepest strength? What really matters to you?
Across Worlds: Connecting the Global Team.
This exciting 75 minute lecture/theater, cross-cultural communication-themed event weaves together two contrasting lives – Alephonsion Deng - a Lost Boy of Sudan and Dr. Jeff Salz -an American explorer and mountaineer. Along with inspiration, when offered as a HALF-DAY WORKSHOP or Keynote with Follow-up Breakout, Across Worlds delivers the skill set necessary for accessing highest human values and building effective, loyal, and deeply committed teams.
Across Worlds 'The Three Touchstones' process comes with a 180 Second Guarantee – that every attendee will leave with the ability to turn a short conversation into the start of an authentic and lasting relationship – even across cultures - in less than three minutes!
Related Speakers View all
---
Neal Petersen

History-Making Extreme Adventurer, Award-Winning Aut...

Stacy Allison

Businesswoman, Adventurer, Author & Motivational Spe...

Eric Saperston

Best-Selling Author & Award Winning Filmmaker

Vince Poscente

Former Olympic Speed Skier, Best-Selling Author, Lea...

Rob Waldo Waldman

Decorated Fighter Pilot; Power of Relationships & Tr...

Bear Grylls

Adventurer, Author & Host of "Man Vs. Wild"

John Amatt

Mountaineer, Founder & President of One Step Beyond ...

Mark Victor Hansen

Founder & Author of Chicken Soup for the Soul Book S...

Dan Buettner

National Geographic Writer, Renowned Explorer & Auth...

David Breashears

Everest Adventurer, Filmmaker & Senior Lecturer at M...

Robyn Benincasa

World Champion Adventure Racer & Best-Selling Author

Paul Deegan

Motivational and Leadership Expert, Everest Mountain...

Chad Hymas

World-Class Wheelchair Athlete & Best-Selling Author

Sharon Wood

First North American Woman to Climb Mount Everest

Dan Marino

Pro Football Hall of Famer, Business Owner & Founder...

Yossi Ghinsberg

Israeli Motivational Speaker, Tech Entrepreneur & Au...

Brian O'Malley

Adventurer, Mountaineer & Award-Winning Photographer...

Stephen Koch

Professional Speaker, Climber, Snowboarder & Mountai...

Captain Gerald Coffee

Former Vietnam Prisoner of War and Inspirational Spe...

Derek Daly

International Racing Champion, Bestselling Author, C...
More like Jeff