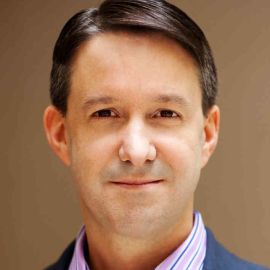 Jeffrey Selingo, an author, columnist and riveting speaker, has spent his journalism career covering colleges and universities worldwide. His book, College (Un)Bound: The Future of Higher Education and What It Means for Students, explores the college of tomorrow. The text includes insights on how families will pay, what campuses will look like, how students will learn and what skills will lead to success in the job market
Selingo's work has been honored with awards from the Education Writers Association, Society of Professional Journalists and the Associated Press. He has been the keynote speaker before dozens of associations and universities, appearing regularly on regional and national radio and television programs, including NPR, ABC and CBS.
The former top editor of The Chronicle of Higher Education, Selingo worked for 16 years in a variety of reporting and editing roles. His writing has also appeared in The New York Times, The Washington Post, The Wall Street Journal and The Huffington Post. He is a contributor to the LinkedIn Influencer program, where users can follow his groundbreaking blog posts on higher education.
Selingo serves as an adviser to Global Citizen Year and the Education Design Lab. He received a bachelor's degree in journalism from Ithaca College and a master's degree in government from the Johns Hopkins University.
A contributing editor to The Chronicle and professor of practice at Arizona State University, Selingo's renowned work and speeches focus on the innovative practices of colleges and universities, along with what they might mean for students, education and businesses in the future.
Videos
---
Speech Topics
---
The College of 2020
As costs continue to rise, more and more students are looking for alternatives to the traditional undergraduate experience. Hybrid learning, three-year degrees and no-frills colleges are going mainstream. Even for traditional students, the college of tomorrow will be much different than the undergrad days their parents fondly recall. This presentation from Jeffrey Selingo takes the audience on a tour of the college of the future.
The Value Gap
Going to college is worth it, but going to a particular college at any price may no longer be worth it. For the vast majority of colleges, the time has come to prove their worth. Prospective parents and students want to know if their experience will be rigorous enough to justify the cost and reap the rewards in the job market. In this speech, Jeffrey Selingo lays out how colleges can assess what is truly valuable in the residential experience, what they offer that is a commodity in a day and age when thousands of courses are on the Internet, and most important, how to communicate their value proposition to would-be students and their families.
The Millennial Mismatch
The average age of financial independence for college graduates these days is 30. With heavier debt loads and a longer life expectancy, today's twenty-something's now spend much of their post-college years job hopping, while they explore careers and supplement their recently earned college degree with skill-based courses. Why is there a mismatch between the students colleges are producing and what employers value? How can employers work with higher education to produce job-ready graduates? And how can employers better engage with millennials and assess what they actually learned in college? The answers Selingo provides in this keynote that are both insightful and actionable.
The Overworked Bachelor's Degree
Forty years ago, when higher education wasn't required to get ahead in life, the bachelor's degree was seen as a vehicle for broad learning. The training part came later when you went to graduate school or got a job where the new employer trained you. Now we expect that skills training move in tandem with broad-based learning. In this keynote, Selingo talks about how the bachelor's degree is the new high school diploma and what a college education should signify in the future.
News
---
Jeff Selingo
Higher ed, welcome to Obamacare. Frustrated by how his policies of the past four years haven't stalled rising college-tuition prices or moved the needle on the ...
Related Speakers View all
---
Malcolm London

Young Poet, Educator & Activist; Known for his TED T...

Jeffrey Kluger

Journalist; Editor and Writer at TIME MAGAZINE. Auth...

Mitt Romney

Former Governor of Massachusetts, 2012 Republican Pr...

John Badalament

Fatherhood Expert

Doug Lemov

Managing Director of Uncommon Schools; Author of "Te...

John Hattie

Leader in Education

Charles Kaiser

Award-winning Author & Journalist; Expert on the Med...

John Merrow

Broadcast journalist who has reported on education i...

Ron Berler

Author of "Raising the Curve"

Brian Udell

Supersonic Survivor Inspirational, Motivational, Safety

Patrick Shaub

Aviation Safety Specialist

Dave Soucie

Aviation Safety

George Marrett

Biographical and Program Information

Rod Machado

Humorist, Educator

Gregory A. Feith

Human Factors, Safety, Aviation Reporting

Richard de Crespigny

Aviaiton Safety, CRM, Hero

Tim Rutten

Marketing and Sales Manager, New Business Developmen...

Cynthia Germanotta

Co-Founder of the Born This Way Foundation with Daug...

Wadia Ait Hamza

Senior Community Manager, Global Shapers & Global Le...

Alexander Taussig

Principal,Highland Capital Partners
More like Jeff