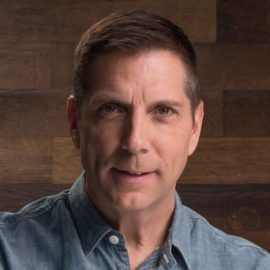 Jeffrey Dean is a Pastor, National Communicator, Counselor and Author. The founder of Jeffrey Dean Ministries, whose mission is to engage, empower and equip followers of Jesus to pursue a committed relationship with Him, Dean has quickly risen to become an authority on teens and teen culture, motivating teens to make good choices in life.
With his innate ability to zero in on today's youth culture, Dean connects with teens by speaking their language, understanding their dilemmas, and resonating deep within their hearts on the issues that matter most. With a heart for evangelism and a passion for communicating to both teens and adults, since founding Jeffrey Dean Ministries in 1993, Dean has spoken to more than two million people throughout the nation's churches, conferences, music festivals, prisons, public and private schools.
With his signature style of tackling everyday issues by applying real-life biblical solutions, Dean has addressed hundreds of local and national ministries, including Creation East, Alive Music Festival, Ichthus Festival, Creation West, The Big Ticket, Lamb Jam and LifeFest Musical Festival, with his message of hope. Exuding a unique combination of humility and boldness, Dean confronts topics of relevance for this generation head-on equipping young people to realize their purpose and value, align their priorities to God's plans and win in life.
Jeffrey has partnered with such popular ministries as Youth for Christ, Fellowship of Christian Athletes, Josh McDowell Ministries, Teen Serve Ministry, and thousands of local Boys and Girls Clubs and crisis pregnancy centers across the country. He has also held a position on the Strategic Stakeholders Committee for the Department of Health and Human Services, Washington, D.C., and presently serves on the Advisory Board of the National Abstinence Clearinghouse.
Jeffrey is the writer of the multi-volume curriculum Flood, published by Serendipity House Publishing, and acclaimed books Between the Lines: One-Liner Wisdom for Today's Guys and Between the Lines: One-Liner Wisdom for Today's Girls, published by Random House Publishing. His latest releases for teens, This Is Me and Watch This, are bold, interactive resources for teen girls and guys, respectively, offering relevant solutions and practical applications to the current issues plaguing them most today, including relationships, parental conflicts, dating and sex. His most recent release specifically for parents, The Fight Of Your Life, is a shockingly truthful and reassuringly practical book highlighting the "must-know" information every teen influencer needs to help guide and guard this generation.
A highly relevant and sought-after communicator, Dean makes his home in Nashville, Tennessee, with his wife and their two daughters.
Videos
---
Related Speakers View all
---
Tom Thelen

Founder of the Victimproof Bullying Prevention Progr...

Jim Morris

Known for His Brief MLB Career & Subject of Disney's...

Dave Dravecky

Former Professional Baseball Player; Cancer Survivor...

Clayton King

Pastor, Founder & President of Clayton King Ministries

AC Green

NBA Champion Miami Heat and Lakers; Community Youth ...

Shawn Harper

Former NFL Football Player, Successful Businessman &...

Pat Williams

Motivational Speaker & Sports Executive; Senior Vice...

Jon Bergmann

Pioneer of the Flipped Class Movement & Bestselling ...

Tonisha Pinckney

Empowerment Beyond Victimization - Author of I AM MO...

Charlie Alejandro

Motivational Speaker, Writer, Actress & Radio Talk S...

Jonathan Mooney

Co-Founder of Project Eye-To-Eye & Learning Disabili...

Debra Peppers

Emmy Award-Winning TV Host; Motivational Speaker and...

Paul Carrillo

Co-founder and Executive Director Southern Californi...

Brad and Misty Bernall

Parents of Cassie Bernall, Victim of Columbine High ...

Alex Banayan

Author & World's Youngest Venture Capitalist

Shaun Hays

Master Speed Chalk Artist

Coach Ken Carter

Coach, Author, Educator & Inspiration for the Film "...

Lakita Garth-Wright

Youth, Motivational Speaker, Media Consultant & Author

Jackson Katz

Anti-Gender Violence Activist, Author

Josh Shipp

Host of A&E's "Teen Trouble", Former At-Risk Foster ...
More like Jeffrey