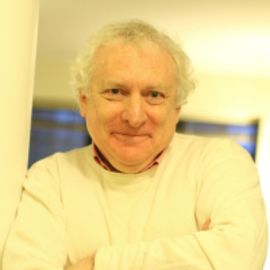 Jeffrey Robinson is the international best-selling author of more than two dozen books, both fiction and non-fiction. He hit the international scene in 1994 with his investigative tour de force, "The Laundrymen." Uncovering the true extent of global money laundering, Robinson revealed how hundreds of billions of dirty dollars, derived mainly from the drug trade, are reinvested throughout the world by otherwise legitimate businessmen, lawyers, accountants and bankers. Still considered the definitive book on the subject, and used in universities and law schools as a text, Business Week described it as "an indictment of governments and banks".
A headline-maker in 14 countries, the book established him as a recognized expert on organized crime, fraud and money laundering. He has actively maintained that reputation for the past 15 years, which led to the British Bankers' Association labeling him, "the world's most important financial crime author."
On the back of "The Laundrymen," Robinson scripted and hosted several television documentaries on money laundering and organized crime, including one for the BBC, and another for Arte in France and Germany. Both films have been shown in the United States.
In 1998, he published a sequel to "The Laundrymen," titled "The Merger - The Conglomeration of International Organized Crime." Five years after "The Merger," he published another book in this series: "The Sink," exposing crime, terrorism and dirty money in the offshore world.
His most recent books are continuations of his investigative crime series: "There's A Sucker Born Every Minute - A Revelation Of Audacious Frauds, Scams And Cons, How to Spot Them, How to Stop Them"; and "The Takedown - A Suburban Mom, A Coal Miner's Son and The Unlikely Demise of Colombia's Brutal Norte Valle Cartel."
He conceived and wrote the pilot for the British crime drama series, "Tightrope" for Yorkshire Television and also completed the pilot episode for a series on financial crime called "Follow The Money."
Robinson's magazine credits include Playboy, McCalls, Barron's, Gourmet, Cosmopolitan, Reader's Digest, TV Guide, Redbook, True, Ambassador, Diversion, Harper's, Mademoiselle and Time Magazine, among others. His newspaper credits include The Washington Post, The San Francisco Examiner, The Christian Science Monitor and The International Herald Tribune, for which he was a major contributor of features (1972-1982).
A frequent guest on television and radio on both sides of the Atlantic, appearances over the past several years have included NBC News, ABC News, Good Morning America, CNN, Fox News, BBC Breakfast, BBC Newsnight, ITN Evening News, the ITN News Channel, Channel 4 News, CBC, CNBC, MSNBC, Sky News, BBC World, Bloomberg, NBC's Today Show and Larry King Live.
Robinson is also a popular after-dinner and key note speaker in Europe and North America, and a winner of the coveted Benedictine Award, as 1990 "After-Dinner Speaker of the Year."
Videos
---
Speech Topics
---
The Laundrymen
Winner of the coveted Benedictine Award for after dinner speaking, Jeffrey Robinson is a recognized expert and excellent conference speaker on organized crime and money laundering.
His expertise on worldwide fraud has made him a much sought after commentator by the media. Some of the issues he discusses include the lessons legitimate businesses can learn from organized crime; how businesses today are prime targets of fraudsters because most businesses are looking in the wrong places to protect themselves; why one in nine people will lose money this year as a result of fraud and what they can do to protect themselves; and the ways that terrorists are financing their activities while governments sit helpless on the sidelines.
Drawing on material from his books, the research that has gone into them and his unique access to the inner-workings of international business - both legal and criminal - Jeffrey Robinson is a dynamic, charismatic, amusing and uniquely effective speaker.
Related Speakers View all
---
Changpeng Zhao

Founder & CEO at Binance; Co-Founder of OKCoin

Andreas M. Antonopoulos

Security & Distributed Systems Expert, Coder, Entrep...

Ben Armstrong

Cryptocurrency Content Creator and Enthusiast; Found...

Shiv Malik

Head Of Communications at Streamr, Author & Former I...

Alex Nascimento

Co-Founder at Blockchain at UCLA Lab

Angel Rich

Founder & CEO of The Wealth Factory

Andrew J. Chapin

Blockchain Entrepreneur and Author

Ed Balls

Global Economist, Former Chair of the International ...

Jason Schenker

Top-Ranked Economist, Best-Selling Author & Presiden...

Bettina Warburg

Co-Founder and Managing Partner of Animal Ventures; ...

Alberto Ajayi Mata

Digital Marketing Expert, Entrepreneur & Ex-NASA Sci...

James Duchenne

Blockchain Expert; Co-Founder of Sutton Stone; Found...

Nathaniel Popper

New York Times Reporter and Author of Digital Gold

Blythe Masters

Chief Executive Officer at Digital Asset Holdings

Fred Ehrsam

Co-Founder at Coinbase

Dr. Scilla Elworthy

Founder of the Oxford Research Group

Balaji S. Srinivasan

Former CTO of Coinbase, Co-founder & Board Member of...

Dean Karlan

Behavioral Economist, Social Entrepreneur & Author

Wences Casares

Founder and CEO of Xapo, Board Member at PayPal, Adv...

James Traub

Global Affairs & Politics Writer
More like Jeffrey