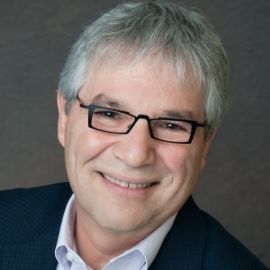 Jeffrey Tobe
Change Management & Innovation Guru; Author of "Coloring Outside the Lines in a Stay-In-the-Lines World"
Certified Speaking Professional Jeff Tobe's credentials are impressive. Insider Magazine recently dubbed him, "The Guru of Creatively Thriving from Change." As one of the most sought after speakers and consultants in corporate America, Tobe has earned this title through his trademark presentations, Coloring Outside the Lines™".
Using humor, wit and a contagious energy, Jeff presents more than 100 programs each year and consults with organizations that urgently need to stay ahead of their marketplace. His client list reads like a Who's Who in corporate America and Canada and includes IBM International, Nestle USA, ReMax International, Ethicon Pharmaceuticals and many others. Jeff's background as an award-winning sales and marketing entrepreneur has made him the leading authority in creativity-in-business. Having owned his advertising business for over ten years, Jeff gained his perspective on creativity from both the agency and vendor side. Combine that with his insight into a changing business world and you have a winner!
Jeff is the Primary Colorer at Coloring Outside the Lines. He is one of only 400 speakers worldwide to have earned the designation of Certified Speaking Professional, the highest accreditation of the National Speakers Association. Tobe was also named one of the top 15 Speakers in North America for 2001 by readers of Conventions & Meetings Magazine.
Jeff believes in the power of creativity to manage the change that is inevitable with innovation and to look at what one does from an entirely new perspective. He helps participants not only to cope with transition, but also to creatively embrace and thrive from it. He teaches organizations that to grow, and increase their bottom line, they must first implement strategies that have a fresh approach.
Jeff is the author of the best selling book, Coloring Outside the Lines…Business Thoughts on Creativity, Marketing & Sales. He is also the co-author of The Sales Coach and The Communication Coach . In addition to his books, Jeff's new audio series includes, The Waiter Brought a Tray…Food for Thought, the full course in advanced sales and personal development, and "Coloring Outside the Lines, Managing & Thriving From Change and Creative Thinking & Problem Solving".
Speech Topics
---
Coloring Outside the Lines for a Change
Creatively thriving from change and transition to set yourself apart from the pack.
Listening Between the Lines: Effective and active communication skills.
Outside-the-Lines Marketing: Creative and cost-effective ways to market your business.
C.O.L.O.R. Selling™: A systematic, five-step probing approach to uncover your clients' true needs.
DISC™: Who are you dealing with anyway?
Related Speakers View all
---
Haydn Shaw

Expert in Generational and Cross-functional Roles, C...

Mark DeVolder

Change Management & Employee Engagement Expert

Jason Young

Former Senior-Level Manager at Southwest Airlines & ...

Doug Lipp

Former Head of Training at Walt Disney University & ...

Emory Austin

Authority on Leadership, Change & Customer Service

Josh Linkner

Five-Time Tech Entrepreneur; Hyper-Growth CEO; NY Ti...

Howard Putnam

Former CEO of Southwest Airlines

Vince Poscente

Former Olympic Speed Skier, Leadership & Sales Exper...

Jim Cathcart

Sales & Marketing Hall of Fame Speaker

Jim Carroll

One of the World's Leading Global Futurists, Trends ...

Dr. Sheila Murray Bethel

Global Leadership, Change, Motivation Expert; Author...

Seth Mattison

Co-Founder & Chief Movement Officer of Luminate Labs...

Robert Kriegel

Expert in Sports & Performance Psychology

Benjamin Zander

Conductor of the Boston Philharmonic Orchestra; Cele...

Erik Wahl

Internationally Recognized Graffiti Artist, Entrepre...

Tim Sanders

Bestselling Author, Technology Pioneer, Expert on Co...

Dr. Nido Qubein

Award-Winning Speaker and Author, President of High ...

Story Musgrave, M.D.

Retired NASA Astronaut; Physician & Professor at Art...

Scott McKain

Customer Experience Expert & Best-Selling Business A...

Adrian Gostick

Founder of The Culture Works & Bestselling Author of...
More like Jeffrey