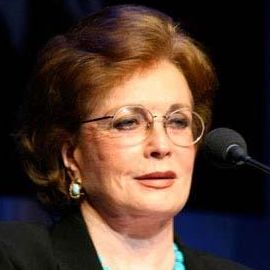 Jehan Sadat
Human Rights Activist; Peace Advocate; Former First Lady of Egypt; and Senior Fellow at the University of Maryland
Jehan Sadat was born in Cairo, Egypt. When she was 15, she met Anwar Sadat who had been recently released from prison where he had been confined for many years because of his fierce resistance to the British occupation of Egypt. On May 29, 1949, the two were married, thus beginning a journey that would last for more than 32 years with a man who would become the president of Egypt and would change the course of history not just for the Middle East, but also for the world.
One of Sadat's first projects was Talla Society, a cooperative which made it possible for village women to learn skills to enable them to earn their own money, which in turn paved the way to becoming more self-sufficient and able to contribute to the financial welfare of their families.
Upon the assassination of President Sadat on October 6, 1981, the she retreated from public life, her beloved projects, and her teaching position at Cairo University. Following a period of grief and uncertainty, she resumed her role as educator, lecturer, and social activist, promoting women's rights and international peace. Currently, Sadat is associate resident scholar at the University of Maryland where the Anwar Sadat Chair for Development and Peace was established and fully endowed in 1997 to honor her husband's legacy.
Her first book, A Woman of Egypt, recounts her notable life as the First Lady of Egypt and her life and marriage to a global peacemaker. Today, Jehan Sadat's mission is to maintain her husband's legacy, keeping his memory alive so future generations may know that Egypt's President Anwar Sadat was a "man of peace." At the same time, she continues to deliver her own views concerning the rights of women, the importance of the family, and world peace.
Videos
---
Speech Topics
---
Taking Your Rightful Place in the World: Women's Emancipation & Education
The Talla Society: Making a Difference
A Woman of Egypt: Life as the First Lady
Women's Rights
Advocating for World Peace
Women Shaping & Changing the World
The Talla Society: Making a Difference
A Woman of Egypt: Life as the First Lady
Women Shaping & Changing the World
News
---
The War Widow
Your new book, "My Hope for Peace," comes at a sadly unpeaceful moment. So much has unraveled in the 30 years since Anwar el-Sadat signed the Egyptian-Israeli peace treaty. He won a Nobel Prize for his heroic efforts. How do you feel when you read the headlines these days?
Related Speakers View all
---
Gillian Sorensen

Senior Advisor, UN Foundation

Sheryl WuDunn

Pulitzer Prize-Winning Journalist; Co-author of Half...

Nicholas Kristof

Pulitzer Prize-Winning New York Times Columnist & Po...

Asra Nomani

Journalist & Author, Women's Rights Activist

Roya Hakakian

Iranian Poet, Journalist & Author

Somaly Mam

Survivor & Anti-Sex Slavery Activist

John Wood

Founder & Board Co-Chair of Room to Read; Former Mic...

Hoda Kotb

Broadcast Journalist, Television Personality, Author...

Archbishop Desmond Tutu

Nobel Laureate & Human Rights Activist

Jesse Jackson

Civil Rights Activist & Politician

Hugh Evans

Humanitarian; Founder & CEO of Global Poverty Project

Dr. Tererai Trent

Internationally Recognized Voices for Quality Educat...

Sandra Fluke

Lawyer, Social Justice Advocate, Women's Health Expert

Anne-Marie Slaughter

Foreign Policy Expert, Author & CEO, New America Fou...

Chandrika Bandaranaike Kumaratunga

Former President of Democratic Socialist Republic Sr...

Mariane Pearl

Widow of Journalist Daniel Pearl

Laura Liswood

Secretary General, Council of Women World Leaders; S...

Mavis Leno

Chair of the Campaign to Help Afghan Women & Girls

Gail Harris

Highest Ranking African American Woman in the US Navy

Maria Echaveste

President & CEO of the Opportunity Institute, Former...
More like Jehan