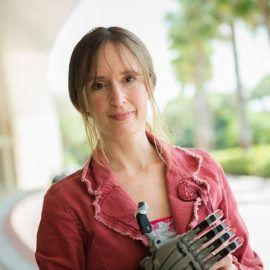 Jen Owen
Co-Founder of e-NABLE, Founder of enablingthefuture.org, Digital Humanitarian & Philanthropist
Jen Owen is the founder and owner of enablingthefuture.org, a website dedicated to sharing the open-source designs and stories from a global community of volunteers who are creating free 3D printed hands and arms for those who were born missing fingers or who have lost them due to war, accident, natural disaster or disease.
What started as a fun cosplay costume project in her family's garage, turned out to be a catalyst in a series of incredibly timed events that led to the creation of the first 3D printed prosthetic hand for a single child in South Africa and has since grown into a worldwide passion project of thousands of volunteers in over 100 countries and over 2000 schools who have delivered approximately 5000 free 3D printed assistive devices to children and adults in need of a "helping hand."
Her philanthropic focus for the past 5 years has involved helping to found and collaboratively lead e-NABLE, a global movement of makers and digital humanitarians who strive to increase the accessibility of prosthetic hands for children and introduce 3D printing technology and curriculums into STEM-based learning environments around the world.
Jen's presentations are inspirational, personal and from the heart. Her examples of making a difference in the world leave audience members inspired and encouraged to use their ideas and imaginations to create collaborative programs in their own communities and start making a difference as well.
She is an internationally recognized blog author, photographer, storyteller, graphic designer and philanthropist from Washington State.
Videos
---
Speech Topics
---
3d printing, Technology, Science, engineering, STEM, Motivation, Inspiration, Creativity, Empowerment, Social Media, Innovation, Networking, EducatioE
Related Speakers View all
---
Nicole Yeary

Founder & CEO of Ms.Tech, A Company That Aims to Sup...

David Nour

Social Networking Strategist

Adora Svitak

Author, Speaker, Youth Advocate & Child Welfare Prof...

Clay Shirky

Expert on New Technology & Social Media, & How They ...

Jim Brazell

Technology Forecaster, Venture Accelerator, STEM Adv...

Dr. Michio Kaku

World-Renowned Futurist & Theoretical Physicist

Michael Bodekaer

Technology Entrepreneur & Founder of Labster

Danielle Feinberg

Director of Photography at Pixar Animation Studios; ...

Dr. Monica F. Cox

Professor & Chair of the Department of Engineering E...

Jon Bergmann

Pioneer of the Flipped Class Movement & Bestselling ...

Mitch Resnick

Mitchel Resnick is LEGO Papert Professor of Learning...

Kamal Hassan

Innovation, business model design, organizational ch...

Mak Man

Dynamic Motivational Speaker and Published Author . ...

Roberto Alas

Reaching and identifying the potential in every sing...

Elijah Ezendu

Award-Winning Business Expert & Software Architect +...

Mina Bissell

Iranian-American Biologist; Known for her Research o...

Bill Gates

Co-Founder of Microsoft; Co-Chair of the Bill & Meli...

Bunker Roy

Founder of Barefoot College

Clay Laugier

Social Entrepreneur & Start-Up Mentor

Bryan Crump

Covering Topics like Creativity, Inspiration, Goal S...
More like Jen