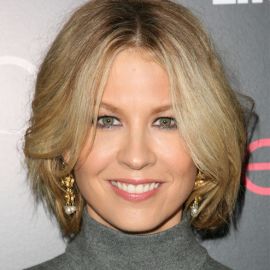 Jennifer "Jenna" Elfman is an American actress, best known for her performances in television comedies. Her first leading role was in the short-lived ABC sitcom Townies in 1996, before making her film debut in the 1997 comedy Grosse Pointe Blank.
Elfman is best known for her leading role as Dharma on the ABC sitcom Dharma & Greg (1997-2002), for which she won the Golden Globe Award for Best Actress – Television Series Musical or Comedy in 1999, and was nominated for three Primetime Emmy Award for Outstanding Lead Actress in a Comedy Series. Later, she went to star in the films Krippendorf's Tribe (1998), Dr. Dolittle (1998), EDtv (1999), Keeping the Faith (2000), Town & Country (2001), Looney Tunes: Back in Action (2003), Clifford's Really Big Movie (2004) and Big Stone Gap (2014).
Elfman made her return to series television with a leading role in the CBS sitcom Courting Alex in 2006, it was cancelled after one season. She went on to star in the sitcoms Accidentally on Purpose (2009–10), 1600 Penn (2012–13), Growing Up Fisher (2014), and Imaginary Mary (2017). She had a recurring role in the FX legal drama Damages in 2012, and in 2018 was a series regular on the AMC horror drama Fear the Walking Dead.
Videos
---