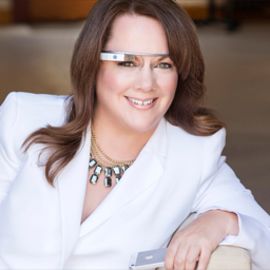 Jennifer Abernethy
2x National Author of the ever popular "Complete Idiot's Guide to Social Media Marketing", Successful Entrepreneur & Media Personality
Known as America's Sales & Social Marketing Stylist, Jennifer Abernethy is truly living the social life. After leaving a 20+ award-winning multi-million dollar producing corporate sales career with the Washington Post Company and e-learning industry, Jennifer Abernethy turned to social media (in 2006) to make her mark.
One of the breakout digital stars of today's social business landscape, Jennifer has been earning national accolades for her marketing trend-casting, social selling strategies, social marketing and social selling acumen. Her ideas and approach are transformative for audiences and clients alike, and she is known for her ability to take complex social media and technical topics and make them easy to understand. Jennifer is known for "going live" on stage and showing social strategies in "real time". For customizable keynotes, entertaining information and comfortable friendly approach, Jennifer will make sure your audiences get the message they need to hear. Jennifer is well positioned to be one of the most well-respected and sought after social business leaders in this decade.
Jennifer is President of Socially Delivered a global social media concierge service now approaching it's 7th year and also The Sales Lounge, a social selling and sales coaching consultancy, where she runs workshops and trainings for some of America's top professionals.
Videos
---
Speech Topics
---
Preparing for the 2020 customer where you can begin to meet them today.
Digital Marketing trends as we inch toward 2020. Where we are and where we are expected to be!
What is the internet? That was the question in 1994. In 2018, we ask what is VR, AR, MR, and what questions should we be asking today?
Is there a 17 year-old in a garage building something that could take market share away from us? Highly likely! it's time to be paranoid!
The Silver Economy. Why you should be speaking to the 50+ consumer. They will be living longer AND they have money!
How to become a true "social" organization. From top down everyone needs to buy into social. Why? How? This talk will show you how.
Social for your sales team. What they should be doing "DAILY" to connect, listen, share and engage to gather more prospects and client
Related Speakers View all
---
Josh Linkner

Five-Time Tech Entrepreneur; Hyper-Growth CEO; NY Ti...

Heather Lutze

Heather was a speaker for two years for Yahoo! Searc...

Ayesha Khanna

The Leading Expert on Our Intelligent Future

Soraya Darabi

Renowned Digital Entrepreneur; Social Media Pioneer

Barbara Rozgonyi

Elevating Events with Creativity and Innovation via ...

Jim Carroll

One of the World's Leading Global Futurists, Trends ...

Rachel Fine

Howard Stern Show / Watch Rachel on Howard Stern's "...

Jon Steinberg

Founder & CEO of Cheddar; Former President and COO o...

Kevin Allocca

Head of Culture & Trends at YouTube

Diane Prince Johnston

CEO & Founder of Winnie & Kat; Fashion Entrepreneur

Lori Cheek

Architect; Entrepreneur; Founder & CEO of Cheekd

Chris Seper

Digital Media Entrepreneur, Founded MedCity Media, P...

Viveka von Rosen

Founder of Vengreso, Social Media Specialist, Author

Pam Moore

CEO & Founder Marketing Nutz, Social Business Strate...

Hunter Walk

Currently, Partner at Homebrew. Previously served as...

Chris Copeland

Chris Copeland is CEO of GroupM Search

Andrea Vahl

Social Media Coach, Author, Consultant

Krista Neher

Marketing Strategist, Bestselling Author, Internatio...

Christi Tasker

Social Media Branding Queen and Keynote Speaker

Ford Saeks

Business Growth & Internet Marketing & Social Media ...
More like Jennifer