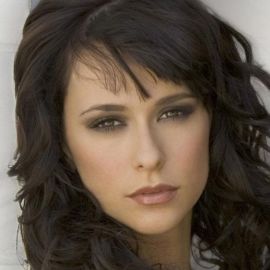 Personifying the type of teen spirit most commonly found in Noxzema ads and pep-squad meets, actress Jennifer Love Hewitt has brought new meaning to the word "effervescent." The '90s saw Hewitt go from relative obscurity to a bona fide teen queen, to say nothing of one of the most frequently enshrined actresses on the internet.
Hewitt was born on February 21, 1979, in Waco, TX. She made her first appearance on television in 1984 in the show Kids Incorporated (which, coincidentally, once guest-starred Scott Wolf, her Party of Five co-star). She also did a multitude of commercials, even doing a stint as an L.A. Gear spokesgirl at the age of ten. After spending the majority of the '80s working in television, Hewitt got her first film role in the 1993 film Sister Act 2: Back in the Habit, but it wasn't until she got her big break as Sarah Reeves on Party of Five (1994) that she began to gain recognition. More recognition came first in the form of Trojan War (1997) and then I Know What You Did Last Summer (1997). The film, which capitalized on the growing trend in teen horror flicks catalyzed by Wes Craven's Scream (1996), proved to be immensely popular among audiences, if not critics; it was predictably followed by a sequel, the aptly titled I Still Know What You Did Last Summer (1998). In addition to her film work, which also included 1998's Can't Hardly Wait, Hewitt maintained her role in Party of Five and continued to star in commercials, most notably as the Neutrogena spokesgirl, as well as headlining her own Fox series, Time of Your Life, in which her Party of Five character, Sarah Reeves, moves to New York to look for her father.
Affectionately known as Love by family and friends, Hewitt has had moderate success as a pop singer, as well as on the big screen. She made her American musical debut in 1995 with the release of Lets Go Bang, and could also be heard singing two tracks for the House Arrest (1996) soundtrack in addition to playing a lead role in the film itself. Can't Hardly Wait, a 1998 teen movie which featured Hewitt as the girl du jour, made enough of a splash in the genre to be parodied in 2002's Not Another Teen Movie. In 2000, Hewitt received some critical acclaim for her portrayal of Audrey Hepburn in The Audrey Hepburn Story, a made-for-television dramatization of Hepburn's life. The next year, Hewitt starred opposite Alien queen Sigourney Weaver in Heartbreakers, which featured the two actresses as mother-and-daughter con artists.
The year 2002 brought Hewitt} the opportunity to star opposite martial-arts favorite Jackie Chan in The Tuxedo, though the movie would tank among critics and audiences alike. After lending her vocal chords to a series of animated roles (The Adventures of Tom Thumb and Thumbelina [2002 [2001]), Hewitt wouldn't return to a major theatrical role until 2004. She is scheduled to work with Val Kilmer in Marc F. Adler's Delgo, as well as play lead roles in Gil Junger's If Only and in the much anticipated 2004 adaptation of Garfield starring Bill Murray. Rebecca Flint, All Movie Guide.
Videos
---
Related Speakers View all
---
Alyssa Milano

Actress, Author, Philanthropist & Founder of Touch...

Cynthia Nixon

Actress Known for her Role as Miranda Hobbes on HBO'...

Sarah Michelle Gellar

Actress; Known for "The Grudge" and "I Know What You...

Kirsten Vangsness

Kirsten Vangsness stars as Penelope Garcia on CBS's ...

Aisha Tyler

Actress & Comedian

Jennifer Lopez

Actress, Recording Artist, Dancer & Philanthropist; ...

A. J. Cook

Andrea Joy Cook (born July 22, 1978) is a Canadian a...

Dita Von Teese

Burlesque Icon, Model, Costume Designer & Entrepreneur

Katie Holmes

American actress on stage and television; Star of ne...

Darby Stanchfield

Film and Television Actress; Best Known for her Role...

Lauren Bowles

American Actress, best known for her role as Holly C...

NeNe Leakes

Actress featured on "Glee" and "The New Normal," Cas...

Rebel Wilson

Comedian, Actress and Writer; Known For Her Roles In...

Carrie-Anne Moss

Actress Best Known for the "Matrix" Trilogy & "Pompeii"

Rachael Leigh Cook

Actress & Producer; Best Known for "She's All That"

Kali Hawk

Actress, Comedian & Model; Best Known for "New Girl"

Emma Stone

Academy Award-Winning Actress Best Known for "La La ...

Garcelle Beauvais

Actress, Model, Author

Sara Ramirez

Award-Winning Actress, Singer & Songwriter; Known fo...

Katherine Heigl

Award-Winning Actress / Model
More like Jennifer