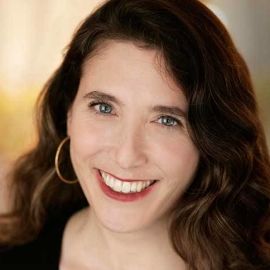 Jennifer Senior
New York Times Book Critic; Best-Selling Author of "All Joy & No Fun: The Paradox of Modern Parenthood"
Much has been written about how parents affect their children. But how do children affect their parents?
Jennifer Senior is the author of All Joy and No Fun: The Paradox of Modern Parenthood, which spent eight weeks on The New York Times Best Seller list. In October of 2015, she joined The New York Times as one of its three daily book critics, succeeding Janet Maslin. Before that, she spent many years as a staff writer for New York Magazine, writing profiles and cover stories about politics, social science, and mental health. She won the Front Page Award from the Newswomen's Club of New York in 1999 and 2014; the GLAAD award in 2002; and the Erikson Prize in Mental Health Media in 2011. Her work has been anthologized four times in THE BEST AMERICAN POLITICAL WRITING, and her 2006 profile of Barack Obama, "Dreaming of Obama," is the closing essay in NEW YORK STORIES: Landmark Writing From Four Decades Of New York Magazine.
Senior has been a frequent guest on NPR and numerous television programs, including Charlie Rose, The Chris Matthews Show, Hardball, Morning Joe, Washington Journal with Brian Lamb, CNN American Morning, Anderson Cooper 360, Good Morning America, and Today. She also spent a year as a contributing writer to the New York Times Magazine. She graduated summa cum laude in anthropology from Princeton University in 1991.
All Joy and No Fun is Senior's first book. It has been translated into twelve languages and was named one of Slate's Top 10 Books of 2014. In March of 2014, Senior spoke at both TED's annual conference and at the Sydney Opera House. She lives in Brooklyn, N.Y. with her husband and son.
Speech Topics
---
The Paradox of Modern Parenthood
Back in 1942, anthropologist Margaret Mead noticed something intriguing about America's parents: The subject of childrearing — so uncomplicated in other countries and settings — left them feeling anxious, unstrung and vulnerable to fads. More than 70 years later, parents are still grappling with these same feelings of uncertainty. In this talk, Jennifer Senior explores some of the unseen forces that are making parents so anxious, including the historic transformation of the child's role; the liberating-yet-confusing introduction of personal choice; and dramatic changes to how we live and work. In so doing, she hopes to make parents see that their challenges, which they so often assume are of their own making, are in fact part of a much larger picture, and that they are by no means struggling alone. She also talks about what can be done to help think differently about raising children, examining the distinction between happiness and joy, and ultimately sheds light on why most parents still say that raising children is the meaningful thing that they'll ever do.
The Unshaming of Motherhood
Ask the average mother how she's doing, and the odds are pretty good that eventually, she'll start cataloguing all the mistakes she's convinced she's making. A number of forces have conspired to make us feel this way: Deceptively curated social media; a widespread misconception that there's a right way to parent; an impossible mandate that we need to create happy kids (a recipe for heartache, which Senior talked about briefly at TED); and most important, a widespread cultural ambivalence about women working, even though mothers are now the sole or primary breadwinners in 4 out of 10 households. Senior unpacks each of these ideas, shows how they're spurious and dangerous, and talks about ways to beat back maternal guilt.
Why Mom's Time is Different From Dad's Time & What Can Be Done About It to Achieve Better Work-Life Balance
Today, mothers and fathers both work roughly the same number of hours per week, if one takes into consideration both paid and unpaid labor. Yet mothers still feel more rushed and anxious. The question is: Why? Among the many explanations: When women are at home, they task-switch far more frequently than men; they assume far more deadline-centered burdens; they consider child care a much harder form of labor than any other. Yet they are not the only ones who are struggling: Today, fathers are reporting as much work-life conflict as mothers, suggesting they, too, feel anxious and strapped for time. Any attempts to address work-life balance, therefore, must in some ways begin at home, says Senior, and must involve a combination of behaving differently and recalibrating our expectations. She'll talk about ways for mothers and fathers alike to address work-life balance, both psychologically and practically, using a blend of data, philosophy and life hacks she's learned from marriage researchers. She will also talk about ways to address work-life conflict through changes in corporate culture and government policy.
Books
---