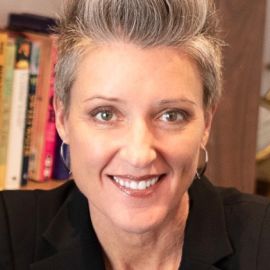 Jenny Evans is obsessed with human performance and has created a career and life designed around maximizing her own potential, and helping others do the same. With a blend of confidence, creativity, stubbornness and some naïveté (which is sometimes key), she has gone headlong into following her passion and purpose…and figured out how to make a living while doing it.
Jenny is a keynote speaker, author and on-air expert on resiliency, stress, confidence and human performance. She is founder and CEO of PowerHouse Performance and author of the award-winning book The Resiliency rEvolution: Your Stress Solution for Life – 60 Seconds at a Time. Working with thousands of C-suite executives, leaders and employees worldwide, Jenny helps audiences tap into their personal power and confidence, as well as learn how to increase their capacity for stress and to recover from it more quickly and effectively. Clients improve their performance and productivity, all while enhancing their health.
Jenny has spoken on the TEDx stage, is the resiliency subject matter expert for Optum and The Big Know's digital courses, writes as a blogger for The Huffington Post and was an NBC Health & Fitness expert for over four years. She has been quoted on National Public Radio, in Health Magazine and Women's Health, while being showcased on FastCompany.com, Inc.com, Entrepreneur.com, Shape.com and Elle.com.
She holds a Bachelor of Science in Kinesiology with an emphasis on Psychology from the University of Minnesota, has been an American Council on Exercise Certified Personal Trainer and Group Fitness Instructor for over 20 years, and is a certified Exercise Nutritionist. In her spare time she is an aerial arts performer…because you never know when you're going to need a backup plan.
Jenny's corporate client list includes Yale School of Management, Ameriprise Financial, U.S. Bank, AT&T, Estée Lauder Companies, Comcast, Nationwide, Procter & Gamble, Target, and many other Fortune 500 companies.
Speech Topics
---
Resiliency Rx: Stress-Proof Your Brain
You've actually got two brains: primitive and advanced. Your primitive brain controls how you act and feel, while your advanced brain handles conscious thought, self-discipline, and sense of purpose.
Unfortunately, evolution has left your primitive brain as your default setting and your extremely busy, conflicted modern world causes it STRESS way beyond what it can handle without intentional intervention.
And stress radically changes your chemistry and physiology.
The good news? The right strategies can combat the negative consequences that we all face.
Jenny shines light on the connection between the daily grind of life and the chemistry of the brain and body. She brilliantly reveals how to truly build resilience to stress, and at the same time, how to optimize your purpose and environment.
Jenny has developed a comprehensive, yet achievable set of micro-strategies that any individual or workforce can implement. It's a philosophy to restore the brain and body's chemistry to become more resilient. Even better… it's so easy a primitive caveman (brain) could do it!
For people who:
Want to continue to take themselves – and their work – to the next level, in a way that's easy, achievable and sustainable
Want to feel better! More energized, grounded, on purpose, creative, happy, and healthy
Want to expand their capacity for what their careers will increasingly demand of them year over year
Are stressed and want effective solutions that are easy to implement
The audience will leave with:
The answer to the ONE question that guarantees clarity, direction, commitment, prioritization and accountability both inside and outside of work
The 7 areas of your life that Resiliency Rx can enhance
Ways to leverage over 100 tools to successfully implement change and the secret to making these changes permanent
A series of "Micro Strategies" for quickly and easily stress-proofing their brain
The knowledge to self-restore the chemistry of their brain, body, and mindset in less than 60 seconds
An optional Resiliency Assessment to garner accurate insight into how they're currently dealing with stress with a customized report on where they can make improvements
Three specific commitments that make up their customized action plan
The Chemistry of Confidence
Do you have days where more confidence could deliver even more success in work and life?
Good news. A simple solution is close at hand… and it's based… in chemistry.
Body chemistry is at the heart of our behavior, which includes our level of confidence. So, in order to become more confident, you have to change your own chemistry.
Jenny will show you how to be your own confidence chemist. It begins by understanding the 5 Chemicals of Confidence: Serotonin, GABA, Dopamine, Endorphins, and Cortisol. The next step is knowing how and when to increase/decrease these chemicals and how to connect your optimized chemistry to your overall outlook and purpose.
That's the chemistry of confidence.
For people who:
Seek a better sense of control
Are ready to start feeling on track, on purpose, and on fire
Feel held back by self-doubt, self-criticism, worry or anxiety
Wish to grow their professionalism: using their voice, leading their team, taking more risks, finding new ways to innovate, collaborate without feeling threatened by others
The audience will:
Discover the 5 chemicals that affect confidence, mindset and leadership abilities
Learn 5 strategies to create the ideal chemical recipe for feeling confident, grounded, focused and in control
Learn 4 practices to help gain clarity, prioritize, make better decisions and take action
Recognize the symptoms of chemistry that don't support confidence
Learn to stop the cycle of negativity loops, fear, and worry
Realize the connection between chemistry and purpose
Related Speakers View all
---
Dr. Kristen Lee

Award-Winning Behavioral Science Expert & Clinician;...

Jenn Lim

CEO & Chief Happiness Officer at Delivering Happiness

Matt Johnson

President of On Target Living; Human Capacity Expert

Eduardo Briceño

Growth Mindset and Improvement Expert; Co-Founder of...

Amelia Rose Earhart

President of the Fly With Amelia Foundation; One of ...

Shawn Achor

Harvard Professor, Researcher, Positive Psychology E...

Amanda Gore

CEO of The Joy Project; Author & Psychologist; Emoti...

Pandit Dasa

Mindful Leadership Expert, Motivational Speaker & Au...

Shannon Miller

Olympic Gold Medalist, Health Advocate & Cancer Surv...

Allison Massari

Executive Coach, Entrepreneur, Visual Artist & Burn ...

Dr. Jackie Freiberg

Corporate Culture & Leadership Strategist, Best-Sell...

J.R. Martinez

Actor, Best-Selling Author, Motivational Speaker, Ad...

Dominique Dawes

Olympic Gold Medal-Winning Gymnast, Former Co-Chair ...

Vince Poscente

Former Olympic Speed Skier, Best-Selling Author, Lea...

Libby Rapin

Mindfulness & Meditation Coach, World Explorer

Coach Ken Carter

Coach, Author, Educator & Inspiration for the Film "...

Heidi Hanna

CEO of Synergy Brain Fitness & Bestselling Author of...

Mark DeVolder

Change Management & Employee Engagement Expert

Adrian Gostick

Founder of The Culture Works & Bestselling Author of...

Ally Love

Host, Model, Dancer, Peleton Instructor
More like Jenny