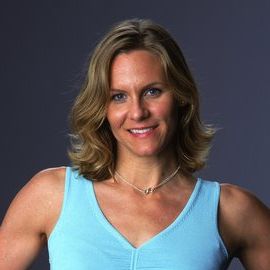 Jenny Thompson
12-Time Olympic Medalist, has won the most medals by any U.S. female Olympic athlete ever
Jenny Thompson is speedy. We're talking world-records-in-three-events speedy. Her quickness and devotion to the sport have made her one of the most accomplished and honored athletes in the world of swimming. She and speed skater Bonnie Blair share the record for most Olympic gold medals won by a woman (five). At the Pan Pacific Championships in 1999, she broke Mary T. Meagher's 18-year-old world record in the 100-meter butterfly, the second-oldest world record in the books.
Named the Women's Sports Foundation Sportswoman of the 2000 ... won three gold medals as part of the world record-breaking 400m free and 400m medley relays and on the 800m free relay, as well as a bronze in the 100m free, at the Olympic Games; also fifth in 100m fly ... rebroke American record in winning 100m free (54.07), while also winning 100m fly at Olympic Trials ... broke own then-eight-year-old American record in winning 100m free (54.27) at Cadillac Challenge meet in Los Angeles ... won five medals (gold: 50m fly - WR, 100m fly - AR semis; silver: 100m free; 800m FR - AR; bronze: 400m MR) at Short Course World Championships; broke world record in 50m fly and American record in 100m fly (semis) ... also swam on fourth-place 400m free relay at Short Course Worlds.
In 2002 Jenny Thompson won gold in the 50m free at Pan Pacific Championships posting a lifetime best; also took bronze in the 100m free and the 100m fly; earned silvers in the 400m free and medley relays … placed second in the 50m free and 100m fly in the P66 Summer Nationals as well as taking fourth in the 100m free after two years off from the sport.
Videos
---