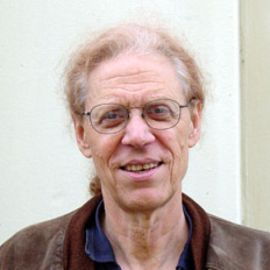 Jeremy Jackson
A leader in the study of the ecology and evolution of marine organisms, Jeremy Jackson is known for his deep understanding of geological time.
Jeremy Jackson is the Ritter Professor of Oceanography and Director of the Center for Marine Biodiversity and Conservation at the Scripps Institution of Oceanography. Painting pictures of changing marine environments, particularly coral reefs and the Isthmus of Panama, Jackson's research captures the extreme environmental decline of the oceans that has accelerated in the past 200 years.
Jackson's current work focuses on the future of the world's oceans, given overfishing, habitat destruction and ocean warming, which have fundamentally changed marine ecosystems and led to "the rise of slime." Although Jackson's work describes grim circumstances, even garnering him the nickname Dr. Doom, he believes that successful management and conservation strategies can renew the ocean's health.
Related Speakers View all
---
Daniel Pauly

Daniel Pauly is the principal investigator at the Se...

Dr. Enric Sala

Marine Ecologist & Explorer-In-Residence at National...

John Delaney

John Delaney leads the team that is building a cable...

Rob Dunbar

Rob Dunbar looks deeply at ancient corals and sedime...

Greg Stone

Greg Stone was a key driver in the establishment of ...

Robert Ballard

Renowned Ocean Explorer & Scientist

Jeremy Rifkin

Leading Global Technologist, Futurist, Authority on ...

Parag Khanna

Leading Geo-Strategist & Author

Aubrey de Grey

Biomedical Gerontologist; Chief Science Officer of S...

Seth Berkley

CEO of Gavi, the Vaccine Alliance; Medical Doctor Sp...

Barton Seaver

National Geographic Fellow, Ocean Conservationist, C...

Bunker Roy

Founder of Barefoot College

Harald Haas

Communications Technology Innovator & Chair of Mobil...

Rebecca MacKinnon

Director, Ranking Digital Rights, New America

Adam Ostrow

Chief Digital Officer, TEGNA

Pastor Rick Warren

Pastor, Author; "The Purpose-Driven Life"

Peter Thiel

Former CEO and Co-founder of PayPal; Technology Entr...

Graham Hill

Founder of Life Edited & TreeHugger.com

Barbara A. Block

Charles & Elizabeth Prothro Professor in Marine Scie...

Brian Skerry

National Geographic Magazine Photographer, Specializ...
More like Jeremy