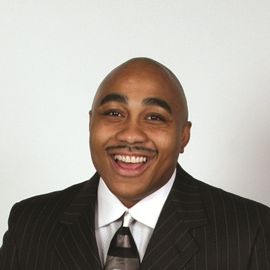 Jermaine Davis
International Speaker on Leadership, Communication, Motivation, Relationship-Based Selling, Diversity & Inclusion.
Jermaine M. Davis is the son of Carolyn "Charmaine" Davis, single mother of four children. He grew up on the west side of Chicago in the Henry Horner's housing projects. After the unfortunate loss of six family members to violent deaths, Jermaine began studying motivational principles and success strategies and enrolled at Elmhurst College to change the direction of his life.
Jermaine completed college, earning a BA in Speech Communication and continued his education to complete a MA in Speech Communication and a second Masters in Education. He began his career in corporate America as a snack food sales rep. After holding several corporate positions, he decided to honor his vocation and follow his passion of teaching individuals to communicate appropriately, competently and effectively: Jermaine became a college professor of Communication Studies.
Jermaine has been actively teaching college adults for more than 15 years, during which he received the prestigious student-nominated College Instructor of the Year Award. He has authored and co-authored 10 books in the areas of academic success, diversity, motivation, inspiration, leadership, and women's leadership. Jermaine is CEO, founder and co-founder of two companies: Seminars & Workshops, Inc. and The Stand Out Leadership Company. He is currently a professor of Communication Studies at Century College and is a Doctoral Candidate studying and researching in the area of Organizational Leadership. Jermaine is also a documentary film maker and is currently working on the release of his debut documentary Breaking the Cycle.
Jermaine delivers keynotes and workshops to thousands of people each year and has worked with hundreds of organization across the United States and Internationally. Managers, executives, college and high school students, educators and other workshop participants describe Jermaine as entertaining, enthusiastic, engaging, knowledgeable, authentic, passionate, motivational, inspirational, content-focused, professionally fun and a little silly at times.
Videos
--- Books
---
Related Speakers View all
---
Mike Abrashoff

Former Commander of USS Benfold & Author of "It's Yo...

Bill Sinunu

Author & Keynote Speaker on Being a Multicultural "C...

Dick Ruhe

Leadership, Change, Quality and Team Building Specia...

The Carrot Guys

Sure, they have real names; but they are best known ...

Afterburner

US Fighter Pilots & Team-Building Experts

Jason Young

Former Senior-Level Manager at Southwest Airlines & ...

Doug Lipp

Former Head of Training at Walt Disney University & ...

Mike Lipkin

Motivational Speaker, Author

Cynthia Kersey

Global Humanitarian, Chief Humanitarian Officer of t...

Adrian Gostick

Founder of The Culture Works & Bestselling Author of...

Chester Elton

#1 Bestselling Business Author, Organizational Cultu...

Tony Alessandra

Premier Communications Expert; Author of "The Platin...

Sandra Graves

International Keynote Speaker, Life Coach, and Auth...

Sheldon Yellen

CEO, BELFOR

Dr. Ken Druck

Speaker, thought leader, executive coach/consultant ...

Val McLeod

Inspirational Influencer and Empowerment Speaker and...

Mark Anthony McCray

Entrepreneur, Speaker, Writer, Credit Repair Guru an...

Carey Lohrenz

First Female F-14 Fighter Pilot in the U.S. Navy, T...

Robert Carrow

Communication, Public Speaking & Persuasive Presenta...

Andrea Raquel

Trained Broadcast Journalist / Marketing Pro & Exper...
More like Jermaine