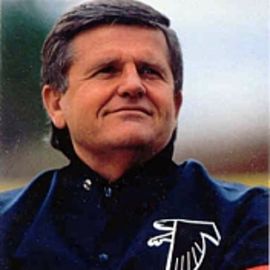 Jerry Glanville
Former American Football Player and Coach, former NASCAR Driver and Owner, and Sportscaster
Jerry Glanville began his NFL career as a special teams coach and defensive assistant with the Detroit Lions from 1974 to 1976. He joined the Atlanta Falcons in 1977 as a defensive back coach and then server as defense coordinator (1979-82), and was responsible for the Falcons' dogged defense, nicknamed the "Grits Blitz."
Glanville joined the Buffalo Bills for one season and then joined the Houston Oilers in 1984 as defensive coordinator, becoming their head coach in 1986. Glanville turned the Houston Astrodome into "The House of Pain." He remained head coach until 1989, leading his team to the playoffs for three consecutive years.His success in Houston brought him back to Atlanta in 1990, this time as head coach. After a disappointing first-year record of 5-11, Glanville turned the team around with a career-high record of 11-5 in 1991.
An avid motor-sports fan and participant, Glanville races in three NASCAR series: Busch Grand National, Super Trucks and Winston West. Glanville also races in the ARCA Series and drag races in the NHRA, NMRA, B&M, Fun Ford and Super GAS Series. In 1991, Glanville was inducted into the Atlanta Country Hall of Fame.
Born Oct 14, 1941, in Detroit, Jerry Glanville was raised in Perrysburg, Ohio. A graduate of Northern Michigan University, where he played linebacker on the football team, he was inducted into the Northern Michigan University Hall of Fame in 1992 and is a recipient of the Distinguished Alumni Award. He later received a master's degree from Western Kentucky University.
Videos
---