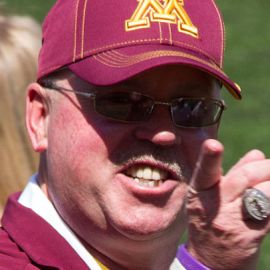 Jerry Kill
Former Head Coach of University of Minnesota's Football Program; Epilepsy Survivor & Passionate Epilepsy Advocate
Jerry Kill is a former American college football player and the former head coach of the University of Minnesota's football program. He currently serves as athletic director at Southern Illinois University.
Kill played college football at Southwestern College in Winfield, Kansas, from 1979 to 1982, becoming the first person from his working-class family to graduate from college.
Kill served as the head coach at Saginaw Valley State University, Emporia State University, Southern Illinois University Carbondale, Northern Illinois University and the University of Minnesota.
Kill has also served as an athletic department administrator, having held positions including his current one as athletic director at Southern Illinois University. He was also briefly at Kansas State as associate athletic director.
During the course of his career, he was credited with bringing several programs to new heights, and these successes led to increasingly more prestigious coaching positions.
Kill has epilepsy, and suffered his first seizure toward the end of a game in October 2005. He was plagued by gameday hospitalizations and seizures for years, which led to him taking a leave of absence from his position as the University of Minnesota's head coach in 2013. Kill returned to serve as head coach for the entirety of the 2014 season and part of the 2015 season, but he resigned from that position in October of 2015 due to his poor health.
Kill has also had kidney cancer in the past, although he is fortunately now in remission. Since his experience with kidney cancer, he started the Coach Kill Cancer Fund foundation to assist low-income southern Illinois residents with treatment.
Kill was a nominee for the 2011 Uplifting Athletes Rare Disease Champion Award, presented by Uplifting Athletes, but lost to Princeton running back Jordan Culbreath. In 2016, he was named to the Kansas Sports Hall of Fame.
Kill and his wife Rebecca have two daughters, Krystal and Tasha.
Videos
---