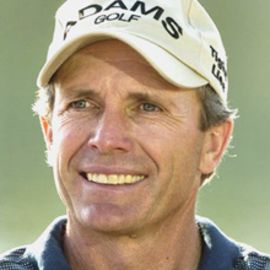 Champion golfer Jerry Pate first burst onto the scene in 1974 with his victory at the U.S. Amateur at Ridgewood Country Club in New Jersey. Since then, he has gone on to become one of the most competitive players on the PGA Tour. He has garnered eight tour victories, including the Tournament Player's Championship and the U.S. Open. He also competed on the Walker Cup team and the victorious 1981 Ryder Cup team.
His spectacular performance during his first seven years on tour earned him several notable accolades. After his U.S. Open Championship title, Pate was bestowed with the 1976 PGA Rookie of the Year and Co-Player of the Year with Jack Nicklaus. Since the early 1980s, he has also been involved in the design of golf courses and has pursued the endeavor with the same passion he took to his game. Pate is considered by his fellow professionals to be one of the most talented course designers in the country.
When he is not playing golf or designing the next best course, Pate keeps himself busy as a CBS golf commentator while raising his three children with his wife, Soozi.