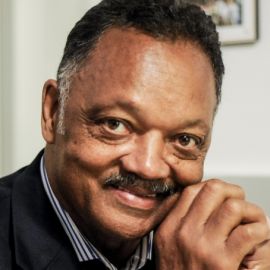 The Rev. Jesse Jackson, founder of the Rainbow PUSH Coalition, is one of the world's foremost human rights, religious and political figures. For more than 50 years, the two-time presidential candidate, former CNN talk show host and newspaper columnist has played a pivotal role in civil rights, gender equality, and social justice. In 2000 President Bill Clinton awarded him the Presidential Medal of Freedom, the highest civilian honour. Today, Rev. Jackson is at the forefront of the struggle for diversity and equality as he crosses the globe in the name of nonviolence and justice, tearing down walls and building bridges.
The Reverend Jesse L. Jackson, president and founder of the Rainbow/PUSH Coalition, is one of America's foremost political figures. Called the "conscience of the nation" and "the great unifier," he challenges Americans to establish just and humane priorities and is known for bringing people together across lines of race, class, gender, and belief.
An assistant to Dr. Martin Luther King Jr., Reverend Jackson directed Operation Breadbasket and subsequently founded People United to Save Humanity (PUSH) in Chicago in 1971 to expand educational and employment opportunities for the disadvantaged and communities of color. He then founded the National Rainbow Coalition in 1984, a national social justice organization devoted to political empowerment, education, and changing public policy. The Rainbow Coalition and Operation PUSH merged into the Rainbow/PUSH Coalition in September 1996 to continue both philosophies and maximize their resources.
Reverend Jackson advocated for national healthcare, a war on drugs, dialogue with the Soviet Union, and negotiations with the Middle East long before they were popular positions, and effectively brought South African apartheid and the fight for democracy in Haiti to the forefront of the national conscience. A hallmark of his work has been his commitment to youth - inspiring hope and challenging young people to award themselves with academic excellence and to stay drug-free - and the American labor movement - working with unions to organize workers and mediate labor disputes.
A renowned orator, Reverend Jackson has received numerous honors for his work in human and civil rights and for non-violent social change.
Videos
---
Speech Topics
---
With Justice for All: Human Rights & Civil Rights at Home & Abroad
Making the American Dream a Reality for all Countries Including the US
Related Speakers View all
---
Van Jones

CNN Political Contributor; Author; Human Rights, Edu...

Archbishop Desmond Tutu

Nobel Laureate & Human Rights Activist

Reverend Al Sharpton

African-American Preacher & Activist; Foremost Civil...

Kevin Powell

Writer, Humanitarian, President of BK Nation

Donna Brazile

Veteran Political Strategist, Bestselling Author, Fo...

Sheryl WuDunn

Pulitzer Prize-Winning Journalist; Co-author of Half...

Juan Williams

New York Times Best-Selling Author, Fox News Politic...

Tavis Smiley

Broadcaster, Author, Publisher, Advocate, and Philan...

Alan Keyes

Former US Ambassador to the UN Social & Economic Cou...

Montel Williams

Emmy Award-Winning Talk Show Host Best Known For "Th...

Asra Nomani

Journalist & Author, Women's Rights Activist

Kweisi Mfume

Political & Business Leader

Parag Khanna

Leading Geo-Strategist & Author

Raj Patel

Award-Winning Writer, Activist & Academic

Ralph Nader

Former Presidential Candidate for the Green Party, C...

Spike Lee

Academy Award-Winning Writer, Producer, Actor & Dire...

Oscar Arias

Former President of Costa Rica & Nobel Laureate

George P. Bush

Politician & Land Commissioner of Texas

Harry Markopolos

The Bernie Madoff Whistleblower

Dr. Tererai Trent

Internationally Recognized Voices for Quality Educat...
More like Jesse