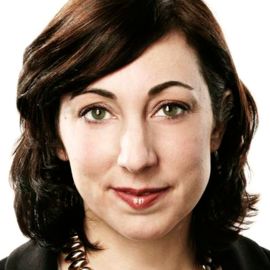 Jessica Lawrence
Executive Director, NY Tech Meetup
Jessica Lawrence is the Executive Director of NY Tech Meetup (NYTM), the largest Meetup in the world and a 38,000-member non-profit organization supporting New York's growing technology community. NYTM's goal is to build a sustainable and diverse technology industry that drives economic growth, leads innovation, and creates positive, high-impact change. The organization's perennially sold-out monthly events have served as a springboard for hundreds of the city's technology startups from Tumblr to Foursquare to Livestream.
Going beyond NYTM's monthly events, Jessica has spearheaded a variety of other initiatives throughout during her tenure, including mobilizing the NYTM community to assist with recovery efforts after Hurricane Sandy devastated New York City, calling on them to volunteer to help federal, state, and city agencies as well as small businesses, not for profits, schools, and others get their critical technology back up and running.
Jessica is also leading efforts to diversify the New York technology industry, launching events and educational opportunities for women in technology and the forthcoming NY Tech Meetup Coalition for Women in Technology.
Prior to her work with NYTM, Jessica was the CEO of Girl Scouts of San Gorgonio Council in Southern California. During her tenure, she was the youngest Girl Scout Council CEO in the country. While serving as CEO, Jessica was an architect of change, leading the organization through much needed shifts in organizational culture and structure, and reshaping the strategic vision of the organization to providing high-quality, relevant programming.
In July 2008, she successfully led Girl Scouts of San Gorgonio Council to become the first non-profit organization in the country to migrate to a Results-Only Work Environment (ROWE). In April 2010, Girl Scouts of San Gorgonio Council was selected by The Non-Profit Times as one of the fifty best non-profits in the country to work for, ranking number eight on the list.
Jessica received her Bachelor of Science in Psychology from the University of Maryland, graduating Cum Laude, and earned her Certificate of Non-Profit Management from Duke University. She was one of only 15 women selected to participate in Seth Godin's Female Entrepreneur MBA (FeMBA) in 2010.
Jessica has received numerous personal and professional awards including the Girl Scouts of the USA Frances Hesselbein Award for Excellence in Management in 2007, was selected as one of The Daily Muse's 12 Women to Watch in 2012, and as one of the Crain's New York Business People to Watch in Silicon Alley 2013
In addition, Jessica's writing has been featured on Harvard Business Review blog, Forbes.com, The Next Web, The Daily Muse and in a weekly column in The Press-Enterprise. Jessica and organizations under her leadership have been featured in The New York Times, Wall Street Journal, Crain's New York Business, The Huffington Post, Forbes, Fast Company, Inc., TechCrunch, Mashable, The Next Web, The Non-Profit Times, the book Why Work Sucks and How to Fix It, the book The Work Revolution, and on CNN, WNYC, NBC, NY1, and many other media outlets.
Related Speakers View all
---
Christopher Albrecht

Managing Editor Covering Food Technology for The Spo...

Anil Dash

CEO of Glitch; Former Advisor to the Obama White Hou...

Kris Krug

Founder of Static Photography

Tony Conrad

Co-Founder of About.me

Brian David Johnson

Futurist & Director of Future Casting, Intel Corpora...

Ben Kaufman

Head of Product Labs, BuzzFeed, Founder, Quirky & Mo...

Ariel Garten

CEO of InteraXon Brain Sensing Technology

Martin Bryant

Editor- in -Chief, Next Web.

Jason Best

Principal, Crowdfund Capital Advisors

Adam Bain

Adam Bain is the President of Global Revenue at Twit...

Dominic Campbell

Founder and Director of FutureGov

Simone Brunozzi

Technology Evangelist

Mike Butcher

Editor-At-Large, TechCrunch

Burnie Burns

Co-Founder of Rooster Teeth Productions

Matthew Brimer

Founder General Assembly

Kent Brewster

Writer, Editor, and Publisher; Pinterest

Ben Lerer

Managing Partner at Lerer Hippeau & CEO of Group Nin...

Jack Buser

Senior Director, Playstation Digital Platforms Sony ...

Lane Becker

CEO Inchvestor

Andy Baio

Co-Founder of the XOXO Festival, Founder of Upcoming...
More like Jessica