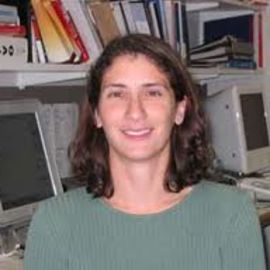 Rosenberg is an expert in the study of gas and stellar content. She's been at Mason since 2007.
Regularly appearing in such journals as Astrophysical Journal and Astronomical Journal, Rosenberg's research centers on one of the most fundamental questions in astrophysics: How do galaxies form and evolve?
Currently, she is undertaking the largest statistical study of the stars and gas in the local universe to date, work that will likely lead to a number of high-profile collaborative projects and increase Mason's visibility in the astrophysics community.
Since 2000, Rosenberg has been the primary investigator on nine successful grant proposals, totaling $1.2 million. In addition, she has written 31 peer-reviewed articles, including nine as first author, and has given 10 invited national and international seminars since 2005 at such places as Yale University, the University of Maryland and Greenbank Observatory.
In 2008, she received much media attention when one of her undergraduate research students discovered a new galaxy.
A former National Science Foundation Postdoctoral Fellow, Rosenberg has a BA in astronomy and physics from Wesleyan College and a PhD in astronomy from the University of Massachusetts. She has held research positions at the University of Colorado and the University of Massachusetts.
Related Speakers View all
---
Christi Tasker

Social Media Branding Queen and Keynote Speaker

Warren Cass

Social Media Strategist & International Speaker

Kelby Carr

Social Media Pioneer

Pam Moore

CEO & Founder Marketing Nutz, Social Business Strate...

Charlie Alejandro

Motivational Speaker, Writer, Actress & Radio Talk S...

Ford Saeks

Business Growth & Internet Marketing & Social Media ...

Nicholas de Wolff

Digital Media & Brand Strategy; Economic & Social Tr...

Marsha Collier

Best-selling author in eCommerce & Customer Service,...

Lisa Van Allen

Executive Coach and Spiritual Director to Mission-Dr...

Jill Salzman

Founder of The Founding Moms, Author, TEDx Alum & Po...

Gillian Muessig

Thought Leader in Global Entrepreneurship

Dawnna St Louis

Uninhibited Action For Unprecedented Business Growth

Barbara Rozgonyi

Elevating Events with Creativity and Innovation via ...

Amber Osborne

Chief Marketing Officer at Meshfire, Former Vice Pre...

Kathy Crowley

Kathy Crowley, MSW, LCSW received her Masters Degree...

Andrea Raquel

Trained Broadcast Journalist / Marketing Pro & Exper...

Adora Svitak

Author, Speaker, Youth Advocate & Child Welfare Prof...

Tara R. Alemany

Teaching Technophobes and Trendsetters for Over 20 Y...

Mark A. Roosevelt

President of St.John's College

Philip Calvert | Social Media Speaker

Social Media Sales Speaker, LinkedIn Strategist and ...
More like Jessica