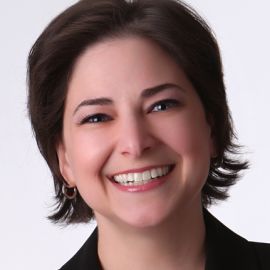 Jessica Setnick is known around the globe as a nutrition expert with a sense of humor. The practical ideas she proposes and the hilarious way she presents them have endeared her to community and professional audiences alike.
Jessica conveys authority without judgment and analysis without disapproval, allowing listeners to reflect on and laugh at their own imperfections. With lighthearted lessons on serious subjects, Jessica conveys that the eating and weight problems we face have roots in our past, but the power to change is very much in our present. As she says, small changes are the heart of any revolution as long as we change the things that really matter.
Because of her accessibility and easy manner, Jessica's fans may forget that she has an extensive education. It is her background in human behavior (she holds a Bachelors degree in Anthropology from The University of Pennsylvania) combined with her expertise in dysfunctional and disordered eating (she is a Registered Dietitian with a Masters Degree and writes books and articles about eating disorders) that have led to her unique ability to see what others miss. She bases her presentations on the latest research into human brain function, decision-making, motivation and personality, but she slips it into her stories so that listeners can relate.
Jessica will wow your audience with straightforward facts, her unorthodox point of view, and most of all, her message of hope that even thinking different thoughts about eating is a step in the right direction. Her insight into why our patients make the choices they do and her knack for teaching us to help them change is what sets Jessica apart from other eating pros who simply tell us what we already know.
Related Speakers View all
---
Chris Blackburn

Former contestant on NBC's "The Biggest Loser"

Amber Krzys

Founder of Bodyheart

Stacy Nadeau

Stacy is a brave Dove "Real Woman" who stood pro...

Elaine Penn

Nationally Recognized Speaker, Trainer and Performer...

Trish Downing

Trish has completed over 50 triathlons from sprint t...

Tish Norman

Tish is the founder and Executive Director of Transf...

Ethan Zohn

Winner of "Survivor" Africa, 2x Cancer Survivor, Ste...

Nastia Liukin

Olympic Gold Medal Gymnast

Gina Susanna

Body Positivity Influencer; Survivor of Anorexia and...

Erin Konheim Mandras

Inspirational Speaker & Blogger on Body Image

Ashley Conrad

Fitness and Nutrition Expert; CEO of Clutch

Liana Rosenman

Co-Founder & Chief Communications Officer of Project...

Charlie Alejandro

Motivational Speaker, Writer, Actress & Radio Talk S...

Angela Rose

Professional Speaker, Author, Humanitarian & Entrepr...

Colleen Coffey

Mental Health Advocate, National Speaker & Innovatio...

Robin Meade

Host of HLN's Morning Express, Singer-Songwriter, Ne...

Somaly Mam

Survivor & Anti-Sex Slavery Activist

Alanis Morissette

Alt-Rock Angst Icon Known for "You Oughta Know" & "I...

Michelle Phillips

Happiness and Performance Expert, Author

Kylie Bisutti

Motivational Christian Speaker & Former Victoria's S...
More like Jessica