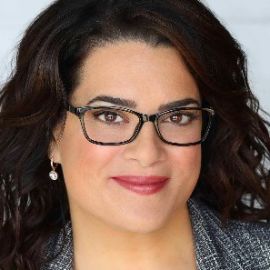 Jessica Weiner
Social Entrepreneur, Culture Expert, Bestselling Author & CEO of Talk to Jess
Jess Weiner (WEE-ner) is a cultural expert focusing on the intersection of business, social change and inclusivity. She's the CEO of Talk to Jess, a consultancy that works with Fortune 500 companies to help them better reflect people in their media, marketing, and advertising. Her work focuses on the cultural and generational differences impacting consumer behavior and relationships with brands. Her insights were key to the development and launch of two culture shifting moments.
In 2006, she helped launch Dove's Campaign for Real Beauty and ignited a national conversation around beauty, body esteem and the industry's promotion of unattainable ideals. A decade later in 2016, Jess again disrupted social norms, this time as a part of the team at Mattel who helped to change Barbie's body, introducing 4 new body types, 7 new skin tones, 22 hair styles, and 24 eye colors.
Practicing her everyday actionism through her groundbreaking and empowering work as an author, speaker, talk show host and performer, Weiner has reached millions of people nationwide covering topics such as eating disorders, relationships, school violence, date rape, and hate crimes.
Weiner is an adjunct professor at USC in the Annenberg School of Journalism, an acclaimed author, and was named by Fast Company as one of the most creative people in Business in the areas of Diversity and Education.
"A Very Hungry Girl", Weiner's first book, chronicles Jessica's own self discovery and recovery from an eating disorder and turbulent childhood as well as stories of countless young people she has worked with across the country.
Weiner was the youngest recipient to be honored by Penn State University with an Alumni Achievement Award. She was also awarded with the Nuvo Cultural Vision Award from the city of Indianapolis for her artistic work and activism. Weiner has been featured on CNN, MTV, "The View," "Good Morning America" and in "The Washington Post," "Teen People" and countless other media outlets.
Related Speakers View all
---
Iris Krasnow

Best-Selling Author & Relationship Expert

Montel Williams

Emmy Award-Winning Talk Show Host Best Known For "Th...

Rosalind Wiseman

Parenting & Bullying Expert; Author of "Queen Bees a...

Rachel Simmons

Bullying and Leadership Expert

Judith Viorst

Poet, Writer & Children's Author

Erin Gruwell

Founder & Executive Director of the Freedom Writers ...

Chris Herren

Former NBA Player & Speaker on Substance Abuse Disor...

Susan L. Taylor

Founder & CEO, National CARES Mentoring Movement & E...

Claire and Mia Fontaine

Co-Authors of Come Back

Janine Turner

Actress, Author & Radio Host; Columnist for the Wash...

Dr. Will Miller

Educator, Psychotherapist, Author & Humorist

Mary LoVerde

International Work-Life Balance Expert

Linda Ellerbee

Award-Winning Journalist & Television Producer; Brea...

Randy Cohen

Writer, Known for "The Ethicist"

Dan Buettner

National Geographic Writer, Renowned Explorer & Auth...

Joan Borysenko, Ph.D.

Behavioral Scientist & Best-Selling Author

Carolyn Jessop

Polygamist Survivor & Author of "Escape"

Vanessa "The Hebrew Mamita" Hidary

Actress / Performer / Writer / Director

Richard Simmons

Fitness Instructor, Actor, Video Producer Known for ...

Eli Newberger

Pediatrician, Musician, Teacher & Author of "The Men...
More like Jessica