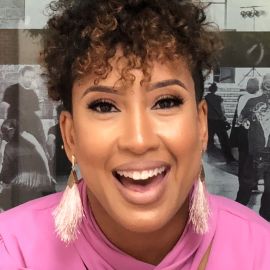 Jillian "JJ" Simmons is a veteran radio/tv host and author from Cincinnati, Ohio. She has captivated listeners from major cities across the country, including her hometown Cincinnati (WIZF-FM), Dayton (WROU-FM), New York City (WBLS-FM, where she worked alongside "The Queen of All Media," Wendy Williams), Indianapolis (WHHH-FM), and Houston (KBXX-FM).
In addition to being a positive influence on people she meets through her community work, JJ is a proud mother to a beautiful daughter. She uses her passion for the" mommy experience" to motivate other single mothers through her network and website SingleMomsRock.com. Although she has always had an innate desire to empower others, raising a daughter has deepened her desire to foster change in the lives of young girls, and inspired her to give birth to JJ's I'm Me Foundation. Her foundation encourages at risk middle and high school girls to be the best version of themselves, by exposing them to leaders and influencers in the community who provide career development, lifestyle planning, health and wellness training, and character education.
Simmons, has authored several books including; Without Bruises that chronicles her journey from hurt to healing, Respect My Crown: A 30-Day Affirmation Journal to Manifest Your Vision and All Falls Down: A Daily Study of Scripture to Lift You Up When Life has Knocked You Down.
Videos
---
Speech Topics
---
3 Ways to Spreading Love In The Classroom
JJ speaks on the importance of acknowledging small acts of kindness that students do for others, encouraging great behavior all year round, and why affirming students daily will change their work ethic!
How to Change The World From Where You Are
You can make the world a better place. JJ shows you how to use the time, resources, natural gifts and talents you use every day to give back to your community in a big way. You will also learn how giving back can and will benefit you.
You Are Qualified
Sharing her own experience of not being qualified for her dream job, JJ reminds her audience that you are eligible to do whatever it is your heart desires. This interactive discussion helps launch a new mindset to achieving your goals and wildest dreams!
Without Bruises
JJ shares her journey to hope, help and healing after being in an emotionally and mentally abusive relationship. Women learn the signs of an abusive relationship and gain the tools to heal.
Finding Balance As A Single Mother
Are you a single mother trying to figure out how to have a career, a love life, time to yourself, and be a great mother? JJ's is the creator of Single Moms Rocks, a website that provides high quality content, product information and entertainment to single mothers. JJ empowers single moms to reach their dreams and simplify their lives.
Related Speakers View all
---
Busy Philipps

Actress, NY Times Best-Selling Author & Late Night H...

Bianca Juarez Olthoff

Best-Selling Author of "Play With Fire" & "How To Ha...

Chidera Eggerue

Millennial Mastermind, Best-Selling Author & Activist

Ashley Michelle Berry

Anti-Bullying Advocate, Actress, TV/Radio Host and P...

Laura Saltman

Emmy-nominated Producer & Correspondent; Expert & Co...

Sheri Lynch

Co-Host of "Bob and Sheri" Radio Show

Montel Williams

Emmy Award-Winning Talk Show Host Best Known For "Th...

Barbara De Angelis

Renowned Relationship and Personal Development Expert

Martha McCully

Lifestyle Expert

Heather Monahan

Author of "The Confidence Creator", Entrepreneur & F...

Elaine Turner

Author of "Breaking The Glass Slipper"

Jonathan Sandys

Speaking on the life & leadership of my great-grandf...

Robert Jeffress

Senior Pastor, Fox News Contributor & Author

Sarah Prout

Best-Selling Author of "Dear Universe," Award-Winnin...

Emilie Aries

Author, Podcaster, Founder & CEO of Bossed Up

Laura Okmin

NFL Sports Broadcaster FOX Sports, Founder of GALvan...

Dermot O'Leary

British Television & Radio Presenter, BBC Radio

Stu Nudelman

Host of "Wine Talk with Stu The Wine Guru Radio" Wri...

Vinnie Penn

Radio Personality, Comedian, Television Personality,...

Amanda Russell

Digital Marketing & Branding Strategist, Professor ...
More like Jillian