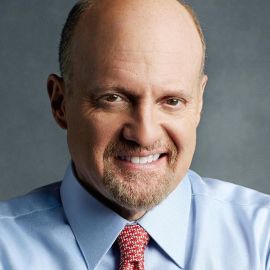 Jim Cramer
Television Personality, Journalist, Financial Analyst, Former Hedge Fund Manager & Best-Selling Author
Jim Cramer graduated magna cum laude from Harvard College, where he was president of The Harvard Crimson. He worked as a journalist at the Tallahassee Democrat and the Los Angeles Herald Examiner, covering everything from sports to homicide, before moving to New York to help start American Lawyer magazine. After a three-year stint, Cramer entered Harvard Law School and received his JD in 1984. Instead of practicing law, however, he joined Goldman Sachs, where he worked in sales and trading. In 1987 he left Goldman to start his own hedge fund. While he worked at his fund, Cramer helped start Smart Money for Dow Jones, and in 1996 founded TheStreet.com, where he serves on the board and has been a columnist and contributor ever since.
In 2000, Cramer retired from active money management to embrace media full time, including radio and television. Currently, Cramer is a markets commentator for CNBC and TheStreet.com. In addition to his daily writing for TheStreet.com's RealMoney and Action Alerts PLUS, as well as his participation in various video segments on TheStreet.com TV, he serves as host of CNBC's Mad Money television program.
Cramer is the author of Confessions of a Street Addict, You Got Screwed, Jim Cramer's Real Money, Jim Cramer's Mad Money, Jim Cramer's Stay Mad for Life, and the recently published Jim Cramer's Getting Back to Even. He has been featured on 60 Minutes, Nightly News with Brian Williams, Meet the Press, The Tonight Show with Jay Leno, Late Night with Conan O'Brien, NBC's Today with Matt Lauer and Meredith Vieira, and MSNBC's Morning Joe.
Speech Topics
---
The Markets and the Economy
"Investing well isn't easy, but it is possible. My goal in life is to make it easier for you to make money."
Jim Cramer
Jim Cramer is the champion of the middle-class investor and making the markets understandable. Every night on Mad Money, he provides valuable information about stocks, steering investors away from danger zones and leading them to the investments that can turn a lackluster portfolio into a powerhouse of profit. In his lively presentations, Cramer cuts through the jargon, giving you information about how the economy affects the markets and what you can do to navigate through it all in order to achieve your financial goals.
Working the Market: How to Protect Your Assets In Any Market
In a turbulent economy, all investors have questions about weathering the storm. Are my assets safe? Where is the best place to put my money? How do I find bull markets among the bears? As one of the most outspoken and fiery commentators on managing your financial future, Jim Cramer brings his experience as a market analyst and former hedge fund manager to help you make the most of your money. In this lively, frank and irreverent talk, Cramer answers investor question and helps your audience to:
Protect their assets from common financial pitfalls
Find financial opportunities when everyone else is saying to hide your money under the mattress
Prepare for the future by making sound financial decisions today
Whats Ahead: The Future of the Stock Market and the Economy
The markets are slumping. Home prices are falling. Investment houses are closing their doors. In uncertain economic times, what does the future hold? With his unmatched and flamboyant style, CNBC's Jim Cramer talks through where and how to make money in any type of market condition. With his years of experience watching the markets, Cramer brings a real approach and cuts to the quick to help you understand what is really happening on Wall Street and Main Street. Cramer also helps audiences understand:
What investments are safe when the markets are unstable
Books
---
Related Speakers View all
---
Ben Stein

Political Economist, Commentator, Author & Actor

Terry Savage

Personal Finance Expert, Investment Advisor, Syndica...

Joseph Stiglitz

American Economist, Professor at Columbia Universit...

Jon Stewart

Talk Show Host, Comedian & Producer

Calvin Trillin

Author, Columnist, Humorist & Political Satirist

Ray Kurzweil

Chairman of Kurzweil Technologies; Inventor; Futurist

Daymond John

"Shark Tank" Investor; Founder & CEO of FUBU; Presid...

Peter Diamandis

Founder & Executive Chairman of the XPRIZE Foundatio...

Anderson Cooper

Journalist, TV Personality, Anchor of CNN's "Anderso...

Bill Maher

Political Satirist & Host of HBO's "Real Time"

John Kasich

Former Governor of Ohio

Ian Bremmer

Political Scientist, Author, Entrepreneur, Lecturer

Maria Bartiromo

Global Markets Editor, FOX Business Network

Dan Abrams

Chief Legal Affairs Anchor at ABC News & Founder of ...

Graham Hill

Founder of Life Edited & TreeHugger.com

Montel Williams

Emmy Award-Winning Talk Show Host Best Known For "Th...

Dan Rather

Iconic Journalist & Former News Anchor for the CBS E...

Suze Orman

Expert Financial Advisor, Former Host of "The Suze O...

Catherine Crier

Acclaimed Author, Former Judge, Award-Winning Journa...

Daniel Altman

Sports Analytics & Strategy Expert
More like Jim