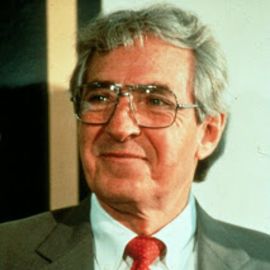 Jim Finks
At a Bears game in 1973, George S. Halas, Jr., son of the franchise's legendary founder and a respected football executive in his own right, turned to his dad and said, "I am so sick of this!" By "this," the man known as Mugs meant the Bears' recent histo
Thirty-seven years ago today, on September 13, 1974, the Halases did something about it. They hired the Bears' first general manager other than Papa Bear himself--and the man they chose for the job proved to be exactly what the doctor ordered.
He was Jim Finks, and he had just concluded a ten-year stint in a similar role with the Minnesota Vikings, which resulted in Super Bowl appearances after the 1969 and 1973 seasons and the NFL Executive of the Year award in '73.
The Bears opened the 1974 season two days after Finks was hired, with a team that did not yet have his fingerprints on it. They beat the Detroit Lions in the opener, but soon reverted to form and finished 4-10 (giving them a dismal record of 24-59 for the past five years).
Finks had spent the season evaluating the Bears' coaches and players, and he delivered his verdict shortly after clock ticked down on a season-ending 42-0 loss at Washington. Head coach Abe Gibron was sent packing, and so were a good many of his players. Jack Pardee took over as head coach, and Finks and his staff set about planning for the 1975 draft.
The first player that Finks drafted for the Bears, with the fourth overall pick in 1975, was the immortal Walter Payton. Long-time starters Mike Hartenstine, Virgil Livers, Revie Sorey, and Bob Avellini also were products of that same draft.
During his years with the Bears, Finks never missed on a first-round pick. After Payton, his other first-rounders were Dennis Lick, Ted Albrecht, Dan Hampton, Al Harris, Otis Wilson, and Keith Van Horne. One, Hampton, has joined Payton in the Hall of Fame, and the others were all starters for lengthy periods of time.
Alas, neither Mugs Halas (who died in 1979) nor his dad (who died in 1983), was around to celebrate when Finks's rebuilding project culminated in the 1985 world championship. Finks saw his efforts come to ruition, but he was no longer employed by the Bears at the time. He had resigned in 1982 after Papa Bear hired head coach Mike Ditka without consulting him.
After his time with the Bears, Finks served briefly as president of the Cubs, then signed on as general manager of the New Orleans Saints, where he remained from 1986 until 1993. Finks narrowly lost out to Paul Tagliabue when NFL owners selected a new commissioner in 1989.
Finks was elected to the Hall of Fame in 1995, a year after he passed away at the age of 66. His contributions to the game of football and his reputation as both a brilliant executive and a gentleman live on.
Related Speakers View all
---
Ed Sabol

NFL Films grew out of a hobby for Ed Sabol.

Bob Harlan

Bob Harlan, the Green Bay Packers' chairman emeritus...

Frank Winters

Favre is scheduled to induct longtime teammate and f...

Zeke Bratkowski

Bratkowski began his playing career at Schlarman Hig...

Ted Thompson

Ted Thompson just presided over his ninth draft as P...

Joe Philbin

Joe Philbin was named the tenth head coach in Miami ...

Mark Tauscher

Mark Tauscher is a former American football offensiv...

Ryan Grant

Ryan Brett Grant is an American football running bac...

Bryan Bulaga

AP Bryan Bulaga responds to questions during a news ...

Brett Swain

Ended the season with 13 catches covering 104 yards.

Chad Clifton

Football player NFL, offensive tackle for the Packer...

Shaun Suisham

Since 2005 Wallaceburg Ontario's Shaun Suisham has m...

Larry Foote

He made his professional debut in 2002 while playing...

Aaron Taylor-Johnson

English actor, starring roles in Nowhere Boy, in whi...

Mike Sherman

Michael Francis Sherman (born December 19, 1954 in N...

Dick LeBeau

Richard "Dick" LeBeau (born September 9, 1937 in Lon...

Chris Hanburger

he Washington Redskins picked North Carolina linebac...

Matt Flynn

Capped LSU career by leading the Tigers to the 2007 ...

Mason Crosby

He became just the seventh two-time, first-team All-...

Jordy Nelson

Following Wednesday's practice, Packers head coach M...
More like Jim