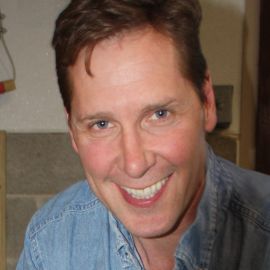 Jim Knox
Wildlife Expert & Beardsley Zoo Curator of Education
As the Writer and Host for PBS television's Wild Zoofari, Jim Knox has shared his knowledge of, and passion for wildlife with millions of viewers throughout the U.S., Russia, Thailand, the Middle East, and Europe, on Animal Planet. A member of The Explorers Club, Jim has served as an on-camera Wildlife Expert for The Today Show, The CBS Early Show and Fox News. He has been featured in The New York Times, has served as a Wildlife Consultant for Men's Journal Magazine and as a Guest Host for Connoisseur Media Star 99.9 FM's Anna & Raven Show.
Jim currently serves as the Curator of Education at Connecticut's Beardsley Zoo where he directs Education and Wildlife Conservation programs for this AZA accredited Zoo. Jim is a graduate of Cornell University where he studied Animal Science and Applied Economics. He has studied rhinos, lions and Great White Sharks in South Africa, conducted field research for Alaskan Brown Bears, field conservation for Atlantic Salmon and written nationally for the U.S. Fish and Wildlife Service.
Jim is the Co-Creator of The Conservation Discovery Corps which won first place honors with the Association of Zoos and Aquariums as the Outstanding Education Program in the nation. Closer to home, Jim has presented to The Harvard College Conservation Society and lectures for the University of Connecticut. He currently serves as a Science Adviser for The Bruce Museum of Greenwich and writes a wildlife column, Wildly Successful, for The Greenwich Sentinel. A national keynote speaker, corporate and TEDx Presenter, Jim loves his work and enjoys engaging all audiences in the protection of wildlife everywhere.
Videos
---
Speech Topics
---
Break Away from the Pack
Join Jim as he explores unmatched leadership and teamwork from the animal kingdom through his field work with Timber Wolves for 20 years in both human care and on the Alaskan tundra. Further explore what it truly means to "Break Away from the Pack" and how this bold move can yield victorious outcomes.
Success by Design
Engage your team to succeed in the corporate jungle or the tooth and claw world of the athletic arena with a personalized presentation.
Saving Animals From Extinction
Join Jim as he profiles his work with Species Survival Plans and wild species re-introductions in the United States and beyond. Learn how 21st century science is extending the reach and achievements of field conservationists and how citizens can become involved in recovery efforts to protect our planet's most imperiled and majestic creatures.
Haul of the Wild
Transporting tigers, grappling gators and shipping scorpions are just a part of the job when you're a professional zoologist. Ensuring the safety of the animals and the humans in your care requires steely resolve, exacting planning and extraordinary teamwork. Gain Jim's insider's perspective as well as industry-transcending lessons from the hidden world of care and transport of the world's most exotic creatures.
Charged by a Grizzly
Whether standing his ground against a charging Grizzly, cage diving with Great White sharks or being stalked by a pride of eight lions, there is no such thing as a typical day for wildlife conservationist, Jim Knox. From the Alaskan tundra to the corporate, academic or athletic arenas, creative thinking on the ground holds the key to achieving desired outcomes. From crisis situation decision-making, to pioneering new territories, Jim shares invaluable and fascinating insights from the field.
Wildly Successful
You wage battle in an intensely competitive world. If you strive to be wildly successful, there's only one place to look for models of unmatched, battle-hardened, and proven success—the animal kingdom. Drawing upon his years of firsthand experience with Amur Tigers, Bald Eagles, Timber Wolves and other creatures, wildlife expert Jim Knox conveys emerging scientific knowledge and personal anecdote to deliver a transformative, industry-applicable and inspiring message to your team.
Virtual Keynote: Survival in a Climate of Fear: What Animals Can Teach Us in a Pandemic World
Look around you. You, me, everyone on our planet, is—at this moment—living in crisis mode. Existential worry for oneself, for our loved ones, eclipses all other thoughts. We live in a state of constant fear and unspeakable stress. Our imperative: We must survive to care for those we love.
Wild creatures survive crises amidst the planet's harshest conditions every day...and endure contagion. How do they do it? More importantly, what tools do they employ and what lessons can they impart to aid us in a radically redefined pandemic world?
Join zoologist, author and explorer, Jim Knox to learn how nature combats its most deadly foe and learn how we humans can model behaviors to survive—and even thrive—amidst crisis.
Virtual Keynote: Hope from The Wild World: Tales of Inspiration and Resilience
In our hyper-connected 21st century world of nearly eight billion, we have become afflicted as one. Never has our species needed messages of hope and inspiration more than today. In the throes of a global pandemic, the rules have changed. Personal safety, the safety of our loved ones—the very next meal we eat—are stark, immediate realities for so many.
Enter, Nature. She has fed, clothed, sheltered and taught us for millennia. Now it is time for her to teach us once more. Today, through stories of inspiration, she can imbue us with both hope and resolve.
Join zoologist, author and explorer, Jim Knox as he shares tales of animal inspiration and resilience, transporting us—for a time—to a place where fear cannot journey and wonder dwells.
Related Speakers View all
---
Lucy King

Zoologist, Human-Elephant Ambassador

David Mizejewski

National Wildlife Federation Naturalist & Media Pers...

Bindi Irwin

Wildlife Conservationist & Daughter of Steve Irwin; ...

Dr. Jane Goodall

Internationally Renowned Primatologist; Founder of t...

Ginette Hemley

Senior VP of Wildlife Conservation at World Wildlife...

Ken Goddard

Director of the National Fish & Wildlife Forensics L...

Paul Nicklen

Renowned Wildlife Photographer & Conservationist

Dyan deNapoli

Penguin Expert, TED Speaker & Award-Winning Author o...

Tim Flannery

Environmentalist, Explorer & Author

Behati Prinsloo

Actress, Victoria's Secret Angel, Model, Activist & ...

Signe Preuschoft

Primatologist at Four Paws; Primate Expert

Dr. Biruté Mary Galdikas

Award-Winning Conservationist, Author & Founder of t...

Robert Irwin

Wildlife Expert, TV Personality, Photographer & Auth...

Jack Hanna

Naturalist, Adventurer & Director Emeritus of the Co...

Benny Jacobs-Schwartz

Avian Field Biologist, International Bird Guide, Wil...

Thomas D. Mangelsen

Renowned American Nature and Wildlife Photographer

Janis Searles Jones

CEO of Ocean Conservancy; Marine Conservation & Poli...

Beverly Joubert

Wildlife Filmmaker & Conservationist, National Geogr...

Jeremy Wade

Writer and TV Presenter

Paul Rosolie

Naturalist Known for Discovery Channel's "Eaten Aliv...
More like Jim