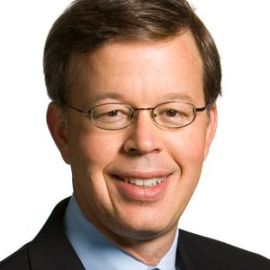 Jim Talent is a Distinguished Fellow at The Heritage Foundation, where he specializes in military readiness and welfare reform issues. In announcing his 2007 appointment, Heritage President Ed Feulner praised the former U.S. Senator as "uniquely qualified" to provide policy recommendations on these two disparate issues. "Jim not only understands the policy pressure points of debate over defense and welfare issues, he has experience writing legislation addressing these critical issues," Feulner said. "This gives him practical skills and insights beyond what most experts offer." One of Talent's objectives at Heritage is to raise awareness—within Congress and throughout the country—of the importance of assuring stable, robust funding of America's military, in peace as well as war. As a member of the House Armed Services Committee, Talent was in the thick of the debate over strengthening the armed forces, taking a firm stance to protect America's military from cuts in size and funding. Such activism dates to his freshman year in the U.S. House of Representatives in 1993, when he formed a special congressional panel to address the decline in readiness. He continued to focus on defense issues in the Senate. He served as a member of that chamber's Armed Services Committee, and chaired the Sea Power Subcommittee for four years. Talent also was a leading voice on welfare issues throughout his congressional career. As a freshman member in the House, he introduced the Real Welfare Reform Act of 1994. This proposal subsequently became the basis for the bipartisan reforms enacted as the Personal Responsibility and Work Opportunity Act of 1996. The legislation is credited with moving 4.2 million welfare recipients from dependency on the government to jobs and self-sufficiency. As a Senator, he introduced the Compassion and Personal Responsibility Act of 2003 to build on the success of the 1996 welfare reform package. He designed the anti-poverty measure to assist more citizens to realize the American dream through opportunity, work, independence and healthy marriages. Talent also was Chairman of the House Committee on Small Business. Talent's political career began in 1984, when, at age 28, he was elected to the Missouri House of Representatives. His legislative successes there over eight years included measures to build roads, toughen drug laws, secure taxpayer rights and reduce taxes. At 32, he was chosen unanimously by colleagues as Minority Leader, the highest-ranking Republican position in the Missouri House. He served in that role until 1992, when he was elected to Congress representing Missouri's 2nd District. After serving eight years in Congress, Talent ran unsuccessfully for Missouri Governor in 2000 before winning a seat in the U.S. Senate in a special election in 2002. He narrowly lost his bid for a second Senate term in November 2006. Talent was born and raised in Des Peres, Mo. He is a 1978 graduate of Washington University in St. Louis, where he received the Arnold J. Lien Prize for most outstanding political science student. He graduated Order of the Coif from University of Chicago Law School in 1981, then clerked for Judge Richard Posner of the U.S. Court of Appeals for two years. He and his wife, Brenda, have three children. The family lives in Chesterfield, Mo.
Videos
---
News
---
Our Growing Security Risks
Jim Talent served on the Senate Armed Services Committee and is currently a distinguished fellow at the Heritage Foundation and co-chair of the American ...
Related Speakers View all
---
Kumi Yokoe, Ph.D.

Senior Visiting Fellow, Japan.

Ray Walser, Ph.D.

Senior Policy Analyst.

Bridgett G. Wagner

Director, Coalition Relations.

Rich Tucker

Senior Writer.

Charles "Cully" Stimson

Chief of Staff and Senior Legal Fellow.

Baker Spring

F.M. Kirby Research Fellow in National Security Policy.

Jack Spencer

Senior Research Fellow, Nuclear Energy Policy.

Elizabeth Slattery

Legal Policy Analyst.

James Sherk

Senior Policy Analyst in Labor Economics.

Rachel Sheffield

Research Associate.

Derek Scissors, Ph.D.

Senior Research Fellow.

Brett D. Schaefer

Jay Kingham Fellow in International Regulatory Affairs.

Paul Rosenzweig

Paul Rosenzweig, who helped craft policy and strateg...

James M. Roberts

Research Fellow For Economic Freedom and Growth.

James Phillips

Senior Research Fellow for Middle Eastern Affairs.

Nina Owcharenko

Director, Center for Health Policy Studies and Prest...

Israel Ortega

Editor of Libertad.org and Spanish Media Associate.

Guinevere Nell

Research Programmer.

David B. Muhlhausen, Ph.D.

Research Fellow in Empirical Policy Analysis.

Derrick Morgan

Vice President, Domestic & Economic Policy.
More like Jim