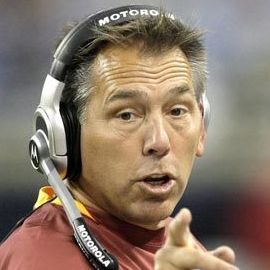 Jim Zorn
James Arthur Zorn was born May 10, 1953 in Whittier, California, USA and was an American football quarterback,.
After playing for the Seahawks, Zorn played one season with the Green Bay Packers (1985), another with the Canadian Football League's Winnipeg Blue Bombers (1986), and one with the Tampa Bay Buccaneers (1987), who ironically, were the only other new expansion team in the Seahawks' inaugural season (1976).
Zorn returned to football the next season as a coach. In college football (which he had played at Cal Poly Pomona) he was the Boise State University offensive assistant/quarterbacks from 1988 to 1991; the offensive coordinator for Utah State from 1992 to 1994; and the quarterback coach for the University of Minnesota from 1995 to 1996.
Back in the pros, Zorn spent the 1997-98 as an offensive assistant for the Seahawks and the next two years (1998-00) as the quarterback coach for the Detroit Lions.
As of 2005, Zorn is back with the Seahawks, now as their quarterback coach (since the 2001-02 season).
He graduated from Gahr High School in 1971, and played college football at Cal Poly Pomona.