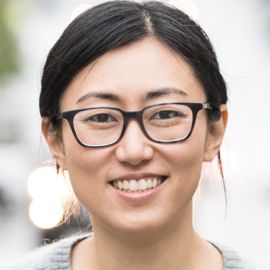 Jini and Kimong were born one year apart. Their parents, immigrants from South Korea, had moved to the United States drawn by the promise of adventure, education, and job opportunities.
At the age of two, Kimong was diagnosed with severe autism. He hit his head when he was frustrated, flapped his arms when he was excited, and has only been able to learn three words: 엄마 eomma, 아빠 appa, and 누나 nuna: mom, dad, and big sister. At the age of eight, Kimong developed grand mal epilepsy, suffering sudden, violent seizures.
Unable to confidently read and speak English and facing the possibility of debilitating debt due to mounting medical bills, Jini's parents struggled to cope. They needed Jini to navigate the convoluted and opaque American healthcare system, and in 1990, she managed to register Kimong for Medicaid. Jini was only 9 years old.
Repairing American healthcare became Jini's life's work, and at the age of 29, Jini named her company Nuna in honor of Kimong, and after caregivers and big sisters everywhere. The Kim family still lives together in the suburbs north of Berkeley.
Founded in 2010, Nuna helps companies shape their health-insurance benefits and wellness programs. It analyzes anonymized data about employees' behavior to determine the answers to questions such as "Are there differences in how people in certain demographic groups seek health care?" or "Can more generous health insurance help improve the productivity of someone with a seriously ill family member?" Before she bailed out Healthcare.gov, Kim viewed the government the way many people in Silicon Valley do: as a hindrance to innovation.Accordingly, Nuna originally sold its services only to corporations. But during her stint working for the Obama administration, she saw the enormous potential the government had to effect change. "You can touch millions of people so easily," says Kim, recalling a day at a Healthcare.gov call center when she overheard desperate people crying because they were unable to sign up for insurance.
Upon her return to San Francisco, Kim expanded Nuna so that it now also works with local, state, and national governments. For example, the company helps the Centers for Medicare and Medicaid Services find patterns in their vast amounts of data.
For Kim, reforming health care is not a theoretical issue. Her 33-year-old brother, Kimong,has severe autism. She has been involved in his care since she was nine years old and had to sign him up for Medicaid on behalf of her immigrant parents. She still lives at home to help out. Nuna's meeting rooms are named after Kimong's favorite Sesame Street characters, and she brings him to work regularly to give her parents a break. The name "Nuna" comes from the Korean word for "big sister," one of three words he knows.
Related Speakers View all
---
Vic Strecher, Ph.D. MPH

Founder, JOOL Health; Professor, University of Michi...

Danielle Roberts

Medicare Insurance Expert; Female Entrepreneur of a ...

Mario Schlosser

Co-Founder & CEO of Oscar Health Insurance

Erica Frenkel

Chief Operating Officer at Gradian Health Systems

Shradha Agarwal and Rishi Shah

CEO; President, Outcome Health

Robyn O'Brien

TEDx Speaker, Food Industry Advisor, Former Financia...

Susan Silbermann

Global President & General Manager of Vaccines at Pf...

Heather Bowerman

Founder and CEO of DotLab

Geannie Cho

Chief Operating Officer of LINA (Cigna Korea)

Ashwin Naik

Healthcare Futurist, Entrepreneur, Author & Founder ...

Karen DeSalvo

Chief Health Officer, Google; Former Assistant Secre...

Dr. Joel Selanikio

Award-Winning Physician, Health & Technology Activis...

Chris Seper

Digital Media Entrepreneur, Founded MedCity Media, P...

Eric Lefkofsky

Founder and CEO at Tempus, Inc.; Co-founder of Light...

Halle Tecco

Social Entrepreneur and Angel Investor

Adewale Troutman, MD, MPH, MA, CPH

President, American Public Health Association (APHA)...

Jack Choi

CEO of Anatomage, a company specializing on 3D medic...

Michal Lev-Ram

Senior Writer at Fortune

Dr. Elaina George

Otolaryngologist, Expert on the Business of Healthca...

Esther Dyson

Executive Founder of Way to Wellville
More like Jini