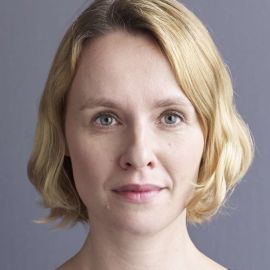 Jo Dunkley
Cosmologist, Professor of Physics & Astrophysical Sciences at Princeton and Author of "Our Universe: An Astronomer's Guide"
Jo Dunkley is a Professor of Physics and Astrophysical Sciences at Princeton University.
Her research is in cosmology, studying the origins and evolution of the Universe. Her major projects are the Atacama Cosmology Telescope and the Simons Observatory. She is also a member of Hyper Suprime-Cam and LSST's Dark Energy Science Collaboration.
Dunkley has been awarded the Maxwell Medal, the Fowler Prize and the Rosalind Franklin award for her work on the Cosmic Microwave Background, and shared the Gruber Prize and the Breakthrough Prize with the WMAP team.
Dunkley is the author of Our Universe: An Astronomer's Guide.
Related Speakers View all
---
Dr. Paul Davies

Director of BEYOND: Center for Fundamental Concepts ...

Jim Bell

Award-Winning Astronomer & Planetary Scientist; Prof...

Sheperd Doeleman

Astrophysicist at the Center for Astrophysics at Har...

Priyamvada Natarajan

Professor of Astronomy and Physics at Yale University

Lawrence Rudnick

University of Minnesota School of Physics and Astron...

Kip Thorne

Nobel Prize Winning Theoretical Physicist & Author, ...

Enrico Ramirez-Ruiz

Professor at UC Santa Cruz, Astrophysicist & Stellar...

Louis A. Del Monte

Award-Winning Physicist, Inventor, Futurist, & CEO o...

Emily Lakdawalla

Senior Editor at The Planetary Society

Dr. Saundra McGuire

Professor, Author, Theorist & STEM Advocate

James Green

Director of Planetary Science at NASA Headquarters

Paul Sutter

Astrophysicist; Host of "Ask a Spaceman" Podcast; Co...

Jim Al-Khalili

British Theoretical Physicist, Professor, Author and...

Eileen Pollack

Director of Master of Fine Arts Program at the Unive...

Thomas D. Jones, PhD

Former NASA Astronaut & Planetary Scientist; Author

Adam G. Riess

Nobel Prize-Winning Astrophysicist

Risa Wechsler

Astrophysicist & Cosmologist

Michael Osterholm

Author of "Deadliest Enemy: Our War Against Killer G...

Stanley Love

NASA Astronaut & Planetary Scientist

Derek B. Lowe

Director in Chemical Biology Therapeutics; Author; R...
More like Jo