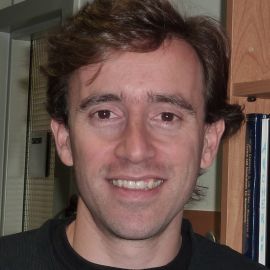 Joao Pereira, PhD
Associate Professor of Immunobiology, Yale School of Medicine
Dr. João P. Pereira is an associate professor of Immunobiology, member of the Yale Cancer Center and of the Yale Stem Cell Center.
Research in the Pereira lab is focused on several aspects related to B cell biology, a fundamental player of adaptive immunity. B cells develop from hematopoietic stem cells (HSCs) in specialized microenvironments in the bone marrow, named stem cell niches that are also critical for the maintenance and differentiation of HSCs and of hematopoietic multipotent progenitor cells (MPPs).
Dr. Pereira studied Microbiology at Universidade Católica Portuguesa (BSc, 1996), Biotechnology at DeMontfort University (MSc, 1997), and did PhD studies (Universidade do Porto, 2004) in Immunology at the Gulbenkian Institute (Oeiras) and the Pasteur Institute (Paris) mentored by Paulo Vieira.
In 2005, Dr. Pereira joined the laboratory of Dr. Jason Cyster (UCSF) as a Howard Hughes Medical Institute Postdoctoral fellow. In the Cyster lab, he studied mechanisms of B lymphocyte migration during development in primary lymphoid organs and during activation in secondary lymphoid organs. Dr. Pereira joined the department of Immunobiology at Yale University in 2010.
Related Speakers View all
---
Kai W. Wucherpfennig, MD, PhD

Professor, Microbiology and Immunobiology, Harvard M...

Jennifer Lund, PhD

Immunobiologist; Assistant Professor, Department of ...

Thomas J Bartosh, PhD

Assistant Professor, Texas A&M University Health Sci...

Robert Schiestl, PhD

Professor of Pathology & Environmental Health Scienc...

Alan Aderem, PhD

Biologist; Co-Founder of the Institute for Systems B...

Olga S. Latinovic

Assistant Professor, Department for Microbiology & I...

Timothy Nice, PhD

Assistant Professor of Molecular Microbiology and Im...

Ian Frazer

Immunologist; Co-Creator of HPV Vaccine; Founding CE...

Kaitlyn Sadtler

Immunologist & Regenerative Medicine Researcher; Chi...

Dr. James Allison

2018 Nobel Prize in Medicine Recipient, Chair of Imm...

Dr. Francis Collins

Director of the National Institutes of Health (NIH)

Dr. Anthony Fauci

Director, National Institute of Allergy and Infectio...

Tracey Goldstein

Virologist, Associate Director of One Health Institu...

Tasuko Honjo

Japanese Immunologist; Professor Emeritus at Kyoto U...

Arlene Sharpe

Professor & Chair of the Department of Immunology at...

Daniel Anderson

Professor, Chemical Engineering and Institute for Me...

Dr. Zoltan Lohinai

Pulmonary Oncologist & Researcher at the National Ko...

Haiying Cheng, MD, PhD

Physician-Scientist at Albert Einstein College; Reci...

Christopher Bahl

Molecular Engineer; TED Fellow

Hao Yan

Director of the Center for Molecular Design & Biomim...
More like Joao