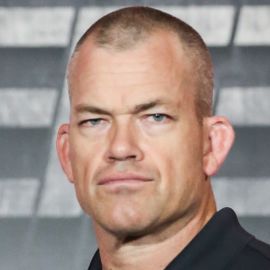 Jocko Willink
Retired Navy SEAL Officer & Author of "Extreme Ownership: How U.S. Navy SEALs Lead and Win"
Jocko Willink is a retired U.S. Navy SEAL officer, co-author of the #1 New York Times bestseller "Extreme Ownership: How U.S. Navy SEALs Lead and Win," "Dichotomy of Leadership," host of the top-rated Jocko Podcast, and co-founder of Echelon Front, where he serves as Chief Executive Officer, leadership instructor, speaker and strategic advisor. Jocko spent 20 years in the SEAL Teams, starting as an enlisted SEAL and rising through the ranks to become a SEAL officer. As commander of SEAL Team Three's Task Unit Bruiser during the battle of Ramadi, he orchestrated SEAL operations that helped the "Ready First" Brigade of the U.S. Army's First Armored Division bring stability to the violent, war-torn city. Task Unit Bruiser became the most highly decorated Special Operations Unit of the Iraq War.
Jocko returned from Iraq to serve as Officer-in-Charge of training for all West Coast SEAL Teams. There, he spearheaded the development of leadership training and personally instructed and mentored the next generation of SEAL leaders who have continued to perform with great success on the battlefield. Jocko is the recipient of the Silver Star, the Bronze Star, and numerous other personal and unit awards.
Upon retiring from the Navy, Jocko co-founded Echelon Front, a premier leadership consulting company, where he teaches the leadership principles he learned on the battlefield to help others lead and win. Jocko also authored "The Discipline Equals Freedom Field Manual," a New York Times Bestseller, and the best selling "Way of the Warrior Kid" children's book series.
Videos
---
Speech Topics
---
STRATEGIC ADVISING – Virtual Executive Coaching, Small Group
Individual coaching sessions with EF instructors enable personalized growth, development, and application of the principles of Extreme Ownership to overcome leadership challenges.
Initial sessions are structured to quickly get the EF Instructor familiar with your company, organizational and positional friction, and areas of focus for leadership development.
In most engagements, EF utilizes a proprietary leadership assessment tool to identify areas of growth for individuals. The tool can be run as both a self-assessment and a 360-degree assessment. Results of the 360-degree survey provide objective insight into leaders' hidden strengths, weaknesses, and blind spots. The output of the tool is used during strategic advising sessions to focus the conversations to help to increase a leader's self-awareness, a key skill in the most effective leaders in combat and in business.
WEBINAR – Live Online Leadership Training and Development
Focused online webinars provide a remote training session tailored to client needs, concentrating on key concepts for each specific group of attendees. The interactive webinars identify the most pertinent subjects and create granular understanding of how to actually apply the leadership principles to solve the most pressing problems. There are also opportunities to conduct experiential learning through live presentations to reinforce how the lessons apply directly to your team.
A standard webinar presentation includes a 20-60 minute topic presentation plus a 30-minute interactive Q&A session with webinar participants. Topics will be customized to meet the specific needs of your team.
Related Speakers View all
---
J.R. Martinez

Actor, Best-Selling Author, Motivational Speaker, Ad...

Daymond John

"Shark Tank" Investor; Founder & CEO of FUBU; Presid...

Rorke Denver

Navy SEAL Commander & Best-Selling Author

Carey Lohrenz

First Female F-14 Fighter Pilot in the U.S. Navy, T...

Gary Vaynerchuk

Co-Founder & CEO of VaynerMedia

Shawn Achor

Harvard Professor, Researcher, Positive Psychology E...

Adrian Gostick

Founder of The Culture Works & Bestselling Author of...

Leif Babin

Retired Navy SEAL & Purple Heart Recipient; NYT Be...

Marcus Luttrell

Decorated Navy SEAL & Bestselling Author of "Lone Su...

Seth Godin

Business & Marketing Expert & New York Times Bestsel...

Magic Johnson

Basketball Hall of Famer, Entrepreneur, Philanthropi...

Tim Tebow

ESPN College Football Analyst; Heisman Trophy Winner...

Chris Gardner

CEO, HappYness; Entrepreneur; International Best-Sel...

Peter Diamandis

Founder & Executive Chairman of the XPRIZE Foundatio...

Randi Zuckerberg

CEO & Founder of Zuckerberg Media; Bestselling Autho...

Eduardo Briceño

Growth Mindset and Improvement Expert; Co-Founder of...

Mike Abrashoff

Former Commander of USS Benfold & Author of "It's Yo...

Josh Linkner

Five-Time Tech Entrepreneur; Hyper-Growth CEO; NY Ti...

Scott O'Grady

Former U.S. Air Force Captain, Fighter Pilot Who Sur...

Marc Randolph

Entrepreneur, Netflix Co-Founder, National Best-Sell...
More like Jocko