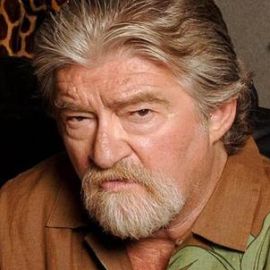 Called the "Che Guevara of screenwriters" (Variety), a "force of nature" (The New York Times), and "a living legend" (ABC's 20/20), Joe Eszterhas is one of the most successful screenwriters in Hollywood history. Over the past 35 years he has penned the scripts for such films as Basic Instinct, Flashdance, Music Box, and the cult classic Showgirls.
Despite his remarkable success as a screenwriter - his collection of films has grossed more than $1 billion at the box office - Eszterhas's life has had its struggles as well. Born in Hungary in 1944, he spent his first six years in Austrian refugee camps before emigrating to Cleveland with his family. A heavy smoker since the age of 12, he was diagnosed with throat cancer in 2001, and has worked since then to de-glamorize smoking in the movies. Along with the Cleveland Clinic, he founded Join Joe, a grassroots anti-smoking advocacy group. He also filmed a series of anti-smoking public service announcements which appeared in theaters and on television nationwide.
Eszterhas has also spent much of his life waging a war against anti-Semitism. He wrote about its evils in the films Betrayed and Music Box and, in 1990, the Justice Department investigated his father, Istvan, for alleged war crimes committed in Hungary during World War II. The investigation caused Eszterhas to break his relationship with his beloved father, a break that he discusses in his books "Hollywood Animal," "Crossbearer," and "Heaven and Mel."
A powerful speaker who understands the art of weaving a truly fascinating story, Joe Eszterhas shares with audiences his personal journey from Hollywood hero to cancer survivor to anti-smoking activist to man of faith and warrior against anti-Semitism.
Speech Topics
---
The Power of Storytelling
Betrayed: My Quest Against Anti-Semitism
Finding God (Or Being Found by Him)
The Rebel as Corporate Icon
Books
---
Related Speakers View all
---
Jeffrey Tambor

Emmy Award-Winning Actor of "Arrested Development," ...

Asra Nomani

Journalist & Author, Women's Rights Activist

David Mamet

Pulitzer Prize-Winning Playwright

Caroline Baron

Award-Winning Producer & Founder, FilmAid

Dr. Will Miller

Educator, Psychotherapist, Author & Humorist

A.J. Jacobs

Best-Selling Author & "Human Guinea Pig"

Mike Greenberg

Sports Broadcaster; Host of "The Mike Greenberg Show...

Randy Cohen

Writer, Known for "The Ethicist"

Angela Bassett

Award-Winning Actress & Co-Founder of Bassett/Vance ...

Jason Alexander

Star of Seinfeld

Janine Turner

Actress, Author & Radio Host; Columnist for the Wash...

John Tesh

Inspirational Radio Host, Pianist & Composer; Known ...

Bette Midler

Entertainer & Award-Winning Actress & Singer

Richard Dreyfuss

Academy Award-Winning Actor

Peter Bogdanovich

Producer, Writer, Actor, Film Critic & Author

Tiffany Shlain

Emmy-Nominated Filmmaker & Founder of the Webby Awards

Vanessa "The Hebrew Mamita" Hidary

Actress / Performer / Writer / Director

Jesse Dylan

Filmmaker & CEO, Freeform / Founder, Lybba.org

Woody Allen

Legendary Director, Screenwriter & Actor

Jon Stewart

Talk Show Host, Comedian & Producer
More like Joe