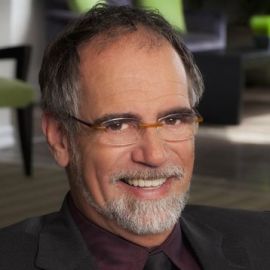 With 40 years' experience, Joe Flower has emerged as a thought leader on the deep forces changing healthcare in the United States and around the world. He has spoken to or consulted with hundreds of clients ranging from the World Health Organization, the Global Business Network, the U.K. National Health Service, the U.S. Department of Defense, and Fortune 100 companies, to the majority of state hospital associations in the U.S. as well as many of the provincial associations and ministries in Canada, and an extraordinary variety of other players across healthcare in every sector.
Flower is the author of "How To Get What We Pay For: A Handbook for the Revolutionaries – Doctors, Nurses, Healthcare Leaders, Inventors, Investors, Employers, Insurers, Governments, Consumers, You." The book is a unique, comprehensive framework for understanding the systemic transformation underway in healthcare and a manual for how to make intelligent and strategic choices for oneself and for one's organization.
Flower was a contributing writer for Wired Magazine in its explosive early years, and a columnist for the pioneering health websites DNA.com and HealthCentral.com. He was a founding member of the International Health Futures Network and the principal author of the landmark healthcare forecast, "Technological Advances and the Next 50 Years of Cardiology," Journal of the American College of Cardiology (vol. 35, no. 4, 2000).
Flower also serves on the Board of the Center for Health Design and has worked with numerous hospitals and architectural firms as they design future healthcare environments.
Speech Topics
---
Healthcare Beyond Reform: Doing it Right for Half The Cost
There is only one way to do healthcare for far less money, and that is to do it far better, for everyone. The answer is not political, but lies inside healthcare itself, in five specific strategies detailed in Joe Flower's new book to be published in March 2012. This is a powerful talk, a hopeful vision, a practical roadmap for healthcare, a challenge and an inspiration to everyone involved.
2012 through 2014: Politics, The Law, and Industry Transformation
These three years will rock healthcare to its foundations. The dynamics are far more complex and the currents far more compelling than they seem on the surface. We need much deeper clarity than we can get from network talking heads. It's time to untangle the political, legal, and healthcare industry threads.
The X Questions: Strategy for the Next Healthcare
2012 through 2014 present a unique and compelling opportunity for healthcare executives to drive deep change. The key questions are different now from what they were in the past, even from what they were last year. Most of today's healthcare CEOs and C-suite leaders are missing many of the key questions they need to ask to drive strategy now, this year, this budget, in order to survive the next three to seven years. Which of these ten strategy questions are you missing?
If we hope to be, as Buckminister Fuller said, "Architects of the future, not its victims," we have to change the way we think in specific ways.
Employers' 'Framework: How to Get Better Health and Healthcare for Less
If you want to drive your healthcare costs down - while helping your employees to better health - you have to act like a CEO and take charge of your supply chain. Employers across the country have been employing a new mindset and specific new strategies to get cheaper, better healthcare. Here's how to tackle the problem for your organization.
The Next Healthcare: The Path of Survival and Growth for You and Your Profession
Healthcare is changing rapidly. 2012 through 2014 will be the most unstable years we have ever seen. Everyone in healthcare, from physicians and nurses to pharmacists and insurance brokers, is wondering what to do: What is the best path forward, for their part of healthcare and for them personally? In talks over the past two years, Joe Flower has been advising groups as diverse as hospital executives, physicians, nurses, physical therapists, pharmaceutical marketers, independent pharmacists, health plans, health insurance brokers and consultants, community health groups, free clinics, ambulatory surgery centers, home health providers, emergency physicians, healthcare suppliers, device manufacturers, and healthcare information companies. Whatever your group, Flower's practical, useful insights and analysis will help you plan your future better.
Related Speakers View all
---
Ian Morrison

Healthcare Futurist and Author

Peter Salgo

Healthcare Futurist, Emmy Award-Winning Health & Sci...

Daniel Kraft, M.D.

Physician-Scientist; Founder of Exponential Medicine...

Dr. Joel Selanikio

Award-Winning Physician, Health & Technology Activis...

Dr. Jeffrey Bauer

Health Futurist, Author & Medical Economist

David Cutler

Harvard Professor of Applied Economics & Author

Susan Dentzer

President & Chief Executive Officer of the Network f...

Marty Makary, M.D.

Healthcare Futurist, Johns Hopkins Surgeon & Profess...

Dr. Michio Kaku

World-Renowned Futurist & Theoretical Physicist

David Agus

Professor of Medicine and Engineering at the Univers...

Karen DeSalvo

Chief Health Officer at Google, Former Assistant Sec...

Dr. Gregory Stock

Healthcare Futurist & Biotech Pioneer

Toby Cosgrove

Former CEO & President at Cleveland Clinic

Daniel Burrus

Technology Futurist, Business Strategist & Hall of F...

Daniel Altman

Sports Analytics & Strategy Expert

Esther Dyson

Executive Founder of Way to Wellville

Calvin Trillin

Author, Columnist, Humorist & Political Satirist

Jeremy Rifkin

Leading Global Technologist, Futurist, Authority on ...

Dr. Richard Carmona

17th Surgeon General of the United States; Chief of ...

Dan Ariely

Behavioral Economist; Professor at Duke University; ...
More like Joe